Inspired by International Women's Day, this special extended branch event brings you short talks by 8 women who work in the IT industry.
Watch the video
Synopsis
Inspired by International Women's Day, this special extended branch event brings you short talks by 8 women who work in the IT industry.
Their talks will show their experiences, motivations and passions, in order to inspire you and show the possibilities in what has been a male-dominated world for many years.
The event is open to everyone, as we all have a part to play in raising gender equality.
About the speakers
The event will be led by Bev Cook (BCS Nottingham & Derby Vice-Chair and Diversity and Inclusion Officer).
Hannah Jacob

Description: As students, there's often a lot of emphases placed on us finding our niche and specialising in a particular area and this was an idea especially prevalent in the earlier stages of the industry. However, as it evolves to the pace of our ever-changing world, perhaps there is a need to start venturing out into lands unknown.
Bio: I'm a third-year international student studying BSc Computer Science (Games Technology) at Nottingham Trent University. I'm currently out on placement as a mainframe developer with Next. At university, I'm known as H. from DevSoc, a committee member of our student-run Developer's Society. I am also a student mentor and an ambassador for NTU in addition to being a volunteer instructor for Code First Girls. In 2021, I was awarded the 'Student Hero' award by Grads in Games for my active participation and work within NTU's science and technology department.
In my free time, you can find me tinkering with all sorts of new technology or interacting with our society members. My passion for tech takes many forms but my personal favourite is introducing people to the world of technology. As a result, I've hosted several introductory workshops under the society that include sessions covering GitHub, IBM Mainframes and Python programming
Eve Pardi

Description: Technology is the future. It can be found at your home, in the office, in cars. What is news today, it's just history tomorrow. Wouldn't it be magical to be part of this world-changing development?
For most of us it's not easy to decide what we want to do when we grow up. That was no different for me. Listen to my story about how did I become what I am now, what were my challenges and successes, and let me inspire you when taking steps to achieve your goals!
Bio: Eve is a skilled Data Scientist and AI Engineer. Eve has been working close to Microsoft since her first years of university, as a Microsoft Student Partner first, and now as a Microsoft Most Valuable Professional. She has worked with Azure Infrastructure (Azure AD, Datacenters, etc.), then Mobile and Web development, and today she has expanded her focus with Data Science and the Machine Learning (ML)/AI services provided by Microsoft. She's a familiar face as a speaker at conferences, meetups and other community events, sharing her passion for AI and how it can be used to improve life quality around the world. Board member of Global AI Community and co-owner of AI42. Eve also writes articles about her projects and researches and is mentoring and supporting people who would like to start in the field of Data Science and AI.
Sorrel Harriett
Description: This talk explores how gaining personal mastery over our learning can help us close gaps and find greater fulfilment. I'll talk briefly about my own experiences as a woman in technology and the work I do now, but the message I want to share is really about the importance of being proactive and collaborative in your approach to personal and professional development, and why this is something particularly important for underrepresented groups to understand and be supported to do.
Bio: To follow
Rebena Sanghera
Description: What if the reason that you are getting so little diverse talent through the door is because the ad turned them off? What if your bias is subtly coding the job advert to attract the same mould of individual time and time again? This talk touches on the way that bias can be inadvertently embedded from the outset and what characteristics might need to be highlighted to appeal to a wider demographic.
Bio: Rebena Sanghera is a BCSWomen Early Careers Advocate and Education Liaison for BCS Nottingham and Derby. She is a Leadership and Management Facilitator at the Education Training Foundation and has been in the Digital Education sector for 20 years - and still loving it.
Rizwana Akmal Khan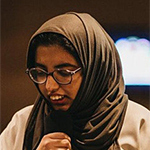 Description: Thinking back to the notions I held about 'working at a job' as a kid, I presumed that it required a special understanding of some alien-level knowledge which, once acquired, was like gaining a completely new kind of vision or puzzle piece that was unavailable to everyone else. Now, with a viewport of someone relatively new on this ladder of Tech, this talk is a reflection of the many small and big things I discovered after crossing one year at a job.
Bio: Rizwana Akmal Khan is a Customer Success Engineer at Vercel (the creators of Next.js, the React framework for production) and co-founder of ProjectFunction (a Nottingham-based start-up which aims to educate and encourage under-represented and marginalized people to get involved in the tech industry). She is also a software developer, polymathic designer, podcast rambler, and childhood poet. As a third-culture adult, Rizwana has grown up valuing diverse work environments and will always stand in support of spaces where people who may be seen as outsiders are given centre stage.
Gosia Borzecka
Description: When I started my journey in IT, I chose to be a software developer. During my career, I changed from a back-end developer to a front-end developer, SharePoint Developer, Full-stack developer to now be an AI Engineer. Is my journey end at being an AI Engineer? Probably not, as IT is changing every day. During my talk, I want to share my journey, my challenges and ensure you that it's never too late to change who you want to be - as IT is full of surprises. And each experience will help you be better at your job and bring some new light to the projects you will work with.
Bio: Gosia Borzecka is a Microsoft AI MVP and Consultant, Modern Workplace at Avanade. She is a full-stack .NET and React developer with Office 365 experience. For the last two years, she has been interested in AI and Machine Learning (and Python!), and during her day job, she helped customers bring AI and ML models into the Modern Workplace. Gosia is also an international speaker, co-leader of NottsDevWorksop and co-leader of AI 42, where she organised a few AI/Office 365 Bootcamps and AI/ML focused meetings. She is helping children learn about programming and new technology as a volunteer in local schools as a STEM Ambassador.
Twitter: https://twitter.com/GosiaBorzecka
Instagram: https://www.instagram.com/gosia.ai/
Blog: www.gosiaborzecka.net
Nina Rubbel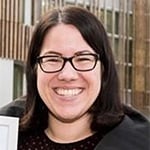 Description: Nina's talk focuses on her personal journey from the law to IT and on how changing into IT ignited her passion for bringing more women into the field and into leadership positions as well as on how Cross-Mentoring can make a difference.
Bio: As Legal Counsel for IT and Data Protection law and Head of Contract & Vendor Management at the international energy company Uniper, Nina has many years of experience in the legal field as well as in IT.
Melanie Flintrop
Description and bio to follow.
Our events are for adults aged 16 years and over.
BCS is a membership organisation. If you enjoy this event, please consider joining BCS. You'll be very welcome. You'll receive access to many exclusive career development tools, an introduction to a thriving professional community and also help us make IT good for society. Join BCS today. Enjoy a 20% BCS discount on membership using BCSNOTTS20.
For overseas delegates who wish to attend the event, please note that BCS does not issue invitation letters.
This event is brought to you by: BCS Nottingham and Derby branch and BCSWomen