Join BCS Notts & Derby, Leicester and CIISec E Mids as they examine the benefits and challenges of achieving Cyber Essentials for SMEs.
Speaker
Tamar Everson, Arcanum Cyber Security
Agenda
18:30 - Arrival and Introductions
19:00 - The Cyber Essentials scheme and the benefits of certification
19:30 - Break
19:45 - Addressing common challenges for SMEs achieving Cyber Essentials
20:00 - Questions and answers
20:30 - End
Synopsis
Come and hear about the benefits that the UK Government backed Cyber Essentials and Cyber Essentials Plus certifications can offer SMEs and the ways to approach the requirements which SMEs often find challenging.
There are good reasons to apply for Cyber Essentials even if you are not obligated to meet procurement or contractual requirements with certification for SMEs starting from just £300+VAT.
Many SMEs face common challenges when applying for certification; hear from a certification provider about practical approaches to deliver these requirements.
Following the presentation, there will be an opportunity to ask questions of the certification provider and people who have helped their SME organisations achieve and maintain certification whilst their organisations grow.
This is an in-person event and free for everybody to attend.
About the speaker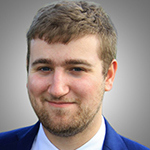 Tamar Everson is a Senior Penetration Tester at Arcanum Cyber Security and has worked as a penetration tester since 2015. During this time, he has assessed the security of many systems from web and mobile applications to infrastructure and bespoke systems across a range of industries and sectors. Tamar is also a Lead Cyber Essentials Assessor, having carried out Cyber Essentials and Cyber Essentials Plus assessments for both SMEs and large global enterprises.
Tamar is a certified Cyber Scheme Team Leader (Web Applications). He holds a BEng (Hons) in Digital Security, Forensics & Ethical Hacking from Glasgow Caledonian University where he established their Ethical Hacking society, and keeps active in the industry with his outreach to universities and those seeking a career in the cyber security space.
Our events are for adults aged 16 years and over.
BCS is a membership organisation. If you enjoy this event, please consider joining BCS. You'll be very welcome. You'll receive access to many exclusive career development tools, an introduction to a thriving professional community and also help us make IT good for society. Join BCS today. 
For overseas delegates who wish to attend the event, please note that BCS does not issue invitation letters.
COVID-19
BCS is following government guidelines and we would ask attendees to continue to also follow these guidelines. Please go to https://www.nhs.uk/conditions/coronavirus-covid-19/ for more information, advice, and instructions.
This event is brought to you by: BCS Nottingham and Derby branch and BCS Leicester branch