Following the demise of Her Majesty The Queen, this event has been postponed in order to observe the period of National Mourning.
Join us for a webinar that will be focusing on covering key points of the DBIR.
Speaker
Deepinder Chhabra CCISO, CISSP, CISA, CISM, CRISC, CGEIT, CDPSE, MBA, Immediate Past President /Board Advisor, ISACA London Chapter and Head of GRC Consulting Services (EMEA), Verizon.
Agenda
12:00 - The event starts
13:00 - The event ends
Synopsis
The latest 2022 Verizon Data Breach Investigations Report (DBIR) was published recently. This comprehensive and free informative report - now in its 15th year - provides invaluable insight into cybercrime trends worldwide in various industries.
The Verizon DBIR 2022 is one of the most respected publications in cybersecurity and provides a data-driven, real-world view of what commonly befalls companies concerning cybercrime.
This year the DBIR team analysed 23,896 security incidents, of which 5,212 were confirmed data breaches.
Many security leaders use the DBIR to sharpen the focus of their security efforts, inform/adapt their cyber risk strategy and educate stakeholders who need to better understand real-world cyber risks.
In this session, Deepinder Chhabra (Deep) will present the key findings and highlights of the DBIR 2022, thus sharing an overview of evolving cyber threat landscape with the audience.
About the speaker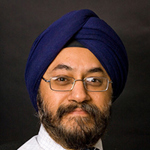 Deepinder (Deep) is Head of GRC Security Consulting and Advisory Services (EMEA) in Verizon Business Group. He challenges, educates and engages senior stakeholders on many critical issues related to cybersecurity and the adoption of new disruptive technologies. In addition, he encourages innovative thinking to generate actionable strategies that help businesses thrive in a volatile, uncertain, complex and ambiguous (VUCA) world while managing their risks.
He believes that actionable risk intelligence-based decision-making significantly enhances the cyber security posture of organisations. For more than 20 years, he has worked with many of the world's largest organisations across diverse industry verticals.
He is an avid speaker and has addressed several conferences and events with wide-ranging topics on Cybersecurity, Risk Management, Cloud Security, Threat Landscape, GDPR, Big Data Analytics, DevSecOps, Artificial Intelligence and the Future of payments.
Deep is an MBA and has attended Executive Education programs at the Indian Institute of Management, Harvard Business School, and Cranfield University.
Deep's voluntary roles include Executive Chair of Abbeyfield (BERKHAMSTED AND HEMEL HEMPSTEAD) Society, Past President and Board Advisor to the ISACA London Chapter and Verizon Digital Inclusion Champion. He is also a registered mentor for Tech4Girls, ISACA London Chapter and ISACA Global.
Our events are for adults aged 16 years and over.
BCS is a membership organisation. If you enjoy this event, please consider joining BCS. You'll receive access to many exclusive career development tools, an introduction to a thriving professional community and also help us make IT good for society. Join BCS today.
This event is brought to you by: BCS Information Risk Management & Assurance (IRMA) specialist group