This talk will explore business change concepts, followed by the Business Change specialist groups Annual General Meeting.
Watch the video
Synopsis
This is an incredible opportunity to develop our committee. As a volunteer, you will be instrumental in shaping the future of the branch and the services it offers to BCS members and the public in the Leicester region.
About the speaker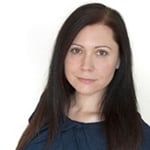 Maria Flores
Maria Flores is the Business Change specialist group committee secretary at the BCS. She's got extensive cross-sector experience in varied roles across the software development life cycle in Information Technology, Data and Business Change bridging different parts of the organisation: Legal, IT, Business and Information Security.
Maria has a degree in Law, an MBA, the BCS International Diploma in Business Analysis and she is a Fellow of Information Privacy.
She currently works as a Data Protection Professional.
Our events are for adults aged 16 years and over.
BCS is a membership organisation. If you enjoy this event, please consider joining BCS. You'll be very welcome. You'll receive access to many exclusive career development tools, an introduction to a thriving professional community and also help us Make IT Good For Society. Join BCS today
This event is brought to you by: Business Change specialist group