Join us as we look at how using technology to combat human rights violations.
Watch the video

Synopsis
As Ukraine, Syria, and other conflicts around the world have demonstrated, citizen-captured photos and videos tell a very powerful story about war crimes and other serious human rights violations. However, photos and videos taken with a standard mobile camera can be easily manipulated and difficult to verify. Therefore, the potential for its use as evidence to hold the perpetrators of these crimes to account is vastly diminished. This presentation will discuss the challenges of using photos and videos as evidence and how technology is being brought to bear to address them.
About the speaker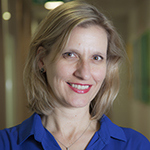 Wendy Betts
Wendy Betts is the Director of eyeWitness to Atrocities, an organisation established by the International Bar Association, that combines law and technology to promote accountability for serious international crimes. The eyeWitness system allows human rights documenters to capture photos/videos of human rights violations that can easily be authenticated by a court.
eyeWitness was awarded the 2016 Innovation in Global Security Prize from the Global Centre for Security Policy. Ms. Betts previously served as the Director of the American Bar Association War Crimes Documentation Project, overseeing projects in the Balkans and west Africa. She has also served on the Technology Advisory Board of the Office of the Prosecutor at the International Criminal Court. She has written and trained on topics related to human rights documentation, international criminal law, and accountability and co-authored a report entered as evidence in the trial of Slobodan Milosevic at the International Criminal Tribunal for the former Yugoslavia.
Ms. Betts has a M.A. in International Relations/International Economics from Johns Hopkins School of Advanced International Studies and a J.D. from the University of San Francisco School of Law.
Our events are for adults aged 16 years and over.
BCS is a membership organisation. If you enjoy this event, please consider joining BCS. You'll receive access to many exclusive career development tools, an introduction to a thriving professional community and also help us Make IT Good For Society. Join BCS today.
For overseas delegates who wish to attend the event, please note that BCS does not issue invitation letters.
This event is brought to you by: BCS Oxfordshire branch