Sasha Alexdottir will talk about the future of communication in social virtual platforms, as well as her ongoing research on the Touch in VR.
Watch the video
Synopsis
Virtual Social platforms are becoming increasingly popular with the growth and development of Virtual Reality, with more people wanting to connect and make friends through this medium. Some examples include Meta Horizons, VRChat, RecRoom. With that, many questions arise on what is the best way to make new bonds in VR? How should one keep safe in the Metaverse? Should children be taking part in the growing social virtual reality? If we want to make new connections in VR, should interpersonal touch be part of it?
Sasha Alexdottir is a PhD Researcher focusing on communication in virtual reality and pseudo – haptic touch. She is the lead Researcher on Phantom Touch in VR phenomenon – the ability to feel another person's touch in the virtual world without any haptic devices or real-life touch. Sasha Alexdottir is keen on Phantom Touch to be used in different fields such as mental health, education, long distance relationships, healthcare, and social virtual platforms.
In this talk, she will discuss her findings on Phantom Touch in VR and how it can be used in the Metaverse and other fields. The second part of her presentation will focus on communication in the Metaverse, how it can be improved, and what ideas can be explored for a greater VR experience.
About the speaker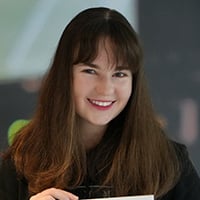 Sasha Alexdottir
Sasha Alexdottir is a PhD Researcher at the National Centre for Computer Animation, Bournemouth University. She is passionate about innovation in the field of social virtual reality, focusing on pseudo – haptic touch, synaesthesia, and communication in the Metaverse. Sasha Alexdottir is the lead Researcher for Phantom Touch in VR and has presented her work in Singapore at the IEEE International Symposium on Mixed and Augmented Reality ISMAR 2022 and won the Best Presentation Award at the conference for Virtual & Augmented Reality Technology-Enhanced Learning in Johannesburg, South Africa – achieving this just in her undergraduate degree and first half a year in her PhD.
Our events are for adults aged 16 years and over.
BCS is a membership organisation. If you enjoy this event, please consider joining BCS. You'll receive access to many exclusive career development tools, an introduction to a thriving professional community and also help us Make IT Good For Society. Join BCS today.
This event is brought to you by: BCS Animation and Games Development specialist group, BCS Hampshire branch, BCS Dorset branch and BCSWomen specialist group