This year's school is on the highly relevant and topical subject of Responsible Project Management, Thursday evenings in March.
Watch the video
Download the presentation slides (PDF)
About the speakers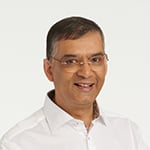 Rashik Parmar

Rashik Parmar is Group CEO of BCS, The Chartered Institute for IT. Rashik was till July 2022 the IBM Fellow and Vice President responsible for creating and driving IBM's European technical strategy. His focus has been helping clients on the journey to becoming a cognitive enterprise leveraging Cloud, AI and IoT technologies whilst creating a dependable IT platform. Drawing on thirty-nine years of practical experience in IBM, he is uniquely placed in developing strategies that are realistic whilst providing tangible business impact. He has worked with financial, retail and manufacturing clients on IT transformation projects of all sizes. Overall, he specialises in ensuring the technical success of complex IT projects that transform business models. Some of his work is summarised in the HBR Article he co-authored - "New Patterns for Innovation" – Jan-Feb 2014.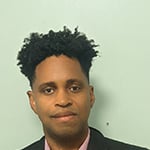 Dr Nigel L. Williams
Dr Nigel L. Williams, PMP: Reader, Project Management and Research Lead, School of Organizations, Systems and People, the University of Portsmouth with the following responsibilities: research strategy formulation; design and implementation of department research roadmap; lead global engagement research strategy,;. Nigel is the co-founder of the 'Responsible Project Management' domain of research and practice and is a co-author of the RPM manifesto. He is also a volunteer for PMI UK and leads the activities in Responsible Project Management.
Dr Karen Thompson, FSI FAPM FHEA
Co-founder of Responsible Project Management, member of the British Standards Institute Committee for Project Controls, member of the Project Management Institute Curriculum Review Committee and Adjunct Faculty at the University of Southampton. A career in information technology preceded academia and in 2017 she was awarded a PhD in Project Management from Bournemouth University. Her work at the intersection of sustainability, project management and education has won awards for teaching excellence, research impact, innovation and social good. She has been a judge for ENACTUS and East London Community Heroes Awards.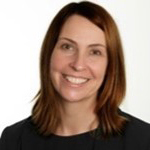 Dr Petrena Prince
Dr Petrena Prince has over 20 years of experience as a Consultant and Program Manager, helping our clients and IBM transform through digital transformation, and sustainability. Over the last few years, Petrena helped establish the industry Responsible Computing consortium, of which IBM is a founding member. Petrena subsequential became the IBM Global Offering Leader for Responsible Computing for IBM Sustainability Services before her most recent move, where she is now the Global Sustainability Program Manager for IBM Global Real Estate. Prior to IBM Petrena achieved her PhD from the Scottish Office Fisheries Research Laboratory and the West of Scotland University for her work on the Biogeochemistry of PBCs in estuarine systems and her graduate degree from the University of Edinburgh in Environmental Chemistry.
Dr Brendan D'Cruz​
Dr Brendan D'Cruz describes himself as a 'pracudemic' and has been involved with BCS and the Project Management Specialist (PROMS-G) as a former committee member. He has facilitated workshops and presentations for BCS that include:
"All Quiet on the Ethical Front: Behaviour and Professionalism in Project Management"
"Why teams must work"
"It's a change initiative, Jim, but not as we know it!"
"Ethics, Projects and ICT"
Brendan is currently a business transformation consultant. A recent role was as Veterans Project Manager for a large housing association, Riverside, focusing on the No Homeless Veterans Roadmap research project and business development/improvement activities.
Brendan's varied career to date has included consultancy roles for the Association for Project Management (APM) to help establish competence-based qualifications and designations, including Registered Project Professional (RPP) as the precursor to Chartered Project Professional. He has also undertaken P3M capability/toolset development work for Social Care Wales and delivered varied business transformation programmes for Newport City Homes. He previously held senior academic management roles in South Wales, East London and Northampton universities.
Other sessions you may be interested in as part of the Spring School
Week 1 - Why RPM? Background into the aims and activities of RPM
Week 2 - RPM and Project Case Studies
Week 3 - Enabling Responsible Transformation
Our events are for adults aged 16 years and over.
BCS is a membership organisation. If you enjoy this event, please consider joining BCS. You'll be very welcome. You'll receive access to many exclusive career development tools, an introduction to a thriving professional community and also help us make IT good for society. Join BCS today. 
For overseas delegates who wish to attend the event, please note that BCS does not issue invitation letters.
COVID-19
BCS is following government guidelines and we would ask attendees to continue to also follow these guidelines. Please go to https://www.nhs.uk/conditions/coronavirus-covid-19/ for more information, advice, and instructions.
This event is brought to you by: BCS Project Management specialist group (PROMS-G)