Join Adrian Dooley for this interactive session.
Watch the video
Synopsis
Cobb's Paradox states that "We know why projects fail, we know how to prevent their failure – so why do they still fail?" This presentation describes the barriers to implementing and embedding good practice in project and programme management. It considers evidence from lessons learned reports and views on the effectiveness of conventional training approaches to understand why project success rates are not greater.
The audience will learn about techniques applied in the World Health Organisation; personality based approaches to understanding project management; the advantages of a long term approach to developing project managers; the workings of diverse teams and a low-cost way of developing organisational capability maturity in project, programme and portfolio management.
About the speaker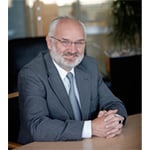 Adrian Dooley
Adrian has had a 45 year career in project management. Originally a construction project manager, he became involved in software development and was part of the team that produced one of the first software packages to be own-branded by Apple.
In 1984 he founded The Projects Group, which provided project related training and consultancy to many different blue chip companies. Adrian personally worked with Unilever, BT, EDF and Siemens on a variety of projects and programmes.
Other roles include founding Project Manager Today Magazine, being an Executive Council Member of the APM and a non-exec director of APM Group Ltd.
Our events are for adults aged 16 years and over.
BCS is a membership organisation. If you enjoy this event, please consider joining BCS. You'll be very welcome. You'll receive access to many exclusive career development tools, an introduction to a thriving professional community and also help us make IT good for society. Join BCS today. 
For overseas delegates who wish to attend the event, please note that BCS does not issue invitation letters.
COVID-19
BCS is following government guidelines and we would ask attendees to continue to also follow these guidelines. Please go to https://www.nhs.uk/conditions/coronavirus-covid-19/ for more information, advice, and instructions.
This event is brought to you by: BCS Project Management specialist group (PROMS-G)