Branch AGM followed by talks on Data Engineering Lifecycle, Data Contracts and Enterprise Architecture.
Speakers
Amaatu Salaam Aidoo
Raymond Klutse
Hamza Niazi
Agenda
6:30pm - Registration 6:40 pm - AGM starts
7:10pm - AGM ends
7:15pm - Comfort break
7:25pm - Welcome note by the Chair Bev Cook
7:30pm - Talk starts 8:25 pm - Q&A
8:30pm - Talk finishes
8:35pm - Final remarks and end of the event
Synopsis
The BCS Nottingham and Derby Branch is pleased to announce its AGM, an essential event in our organisation's calendar. This year's AGM holds special significance as it marks the election of new members to our executive committee. Join us for an evening of insight, knowledge sharing, and the opportunity to take part in shaping the future of our branch.
Join us for an engaging and informative event featuring a series of expert talks covering crucial aspects of the ever-evolving technology landscape.
Our main event will delve into the following essential subjects, providing valuable insights and knowledge for all attendees:
The Data Engineering Lifecycle by Amaatu Salaam Aidoo: Explore the Data Engineering Lifecycle with Amaatu Salaam Aidoo, a seasoned data engineering specialist. Gain a deep understanding of the stages, methodologies, and best practices that underpin the data engineering process. Learn how to harness data engineering to drive innovation, streamline processes, and maximize the value of your data assets.
Understanding Data Contracts by Raymond Klutse: Join Raymond Klutse, a recognized expert in data management, on a journey into the world of data contracts. Discover the significance of data contracts in ensuring data quality, integrity, and consistency within your organization. Learn how to establish and maintain effective data contracts to enhance decision-making and data-driven operations.
Enterprise Architect Role by Hamza Niazi: Hamza Niazi, an accomplished Enterprise Architect, will shed light on the pivotal role of enterprise architects in modern organizations. Explore the responsibilities, challenges, and strategic impact of enterprise architects in aligning technology with business goals. Gain valuable insights into how the role of an enterprise architect can drive innovation and ensure the long-term success of your enterprise.
About the speakers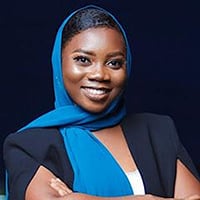 Amatu-Salaam Aidoo is a software and data engineer with almost 9 years of experience building web applications, API integrations, and developing solutions in the banking and fintech ecosystems. She has contributed to high-performing engineering teams providing remittance, payment, and collection solutions aimed at improving financial inclusion in Africa. In the UK, she has built data pipelines, orchestrations, and transformations of big data. She has also contributed to the delivery of data platforms and business intelligence solutions for clients. Outside of work, she loves to travel and explore nature.
Raymond Klutse is a Tech Consultant with expertise in Data Engineering, Software Engineering and Machine Learning. He holds an MSc in Data Science from IMT Atlantique- France, and a BSC in Information Technology from the University of Ghana. He has worked in Ghana, France and the UK in Education, AI and Fintech. Apart from his day job, he loves music, taking care of his plants and cooking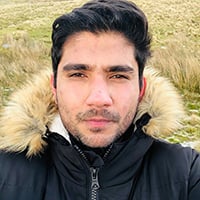 Hamza Niazi is a Senior Consultant with expertise in Data Engineering, Software Engineering and Machine Learning, Computer vision. He holds an Msc in Artificial Intelligence and Robotics from University of Hertfordshire, and a BSC in Computer Science from the NUCES. He has worked in Pakistan and the UK in Finance, Insurance, Banking, Health Care, Drones, Defence industries.
Our events are for adults aged 16 years and over.
BCS is a membership organisation. If you enjoy this event, please consider joining BCS. You'll be very welcome. You'll receive access to many exclusive career development tools, an introduction to a thriving professional community and also help us Make IT Good For Society. Join BCS today
For overseas delegates who wish to attend the event, please note that BCS does not issue invitation letters.
COVID-19
BCS is following government guidelines and we would ask attendees to continue to also follow these guidelines. Please go to https://www.nhs.uk/conditions/coronavirus-covid-19/ for more information, advice, and instructions.
This event is brought to you by: BCS Nottingham and Derby branch