The AGM will follow this event.
Watch the video
Synopsis
The IBM Security X-force threat intelligence index, reports that the healthcare sector is the 7th most attacked industry in 2022.
The healthcare sector poses unique challenges because the care robotic system manages sensitive and private information that must be preserved and protected from being inadvertently disclosed by the AI system, protected from unauthorised users, and safeguarded from data tampering and data exposure.
If the system is not secured and its privacy protected then, a cyber-attack would be catastrophic not only because it deals with sensitive private data of the patients/users, but also because the system functionality could be altered, and instructions can be manipulated and misguided. In social and care robots which are multi-modal in nature in terms of engagement and interaction, the security mechanisms during interaction to safeguard the system and its data are mostly unexplored and require further research to identify suitable secure mechanisms.
The secure solutions should not become a barrier and a burden while the techniques are usable and adoptable. The security and privacy solutions should not be an added application after the system is developed, rather it should be incorporated from the design.
If the security and privacy aspects are not considered then the factors of trust, acceptance, and adoption of care robots are going to be affected and impacted.
About the speaker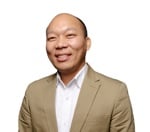 Dr. Jims Marchang is a Senior Lecturer in Cybersecurity at Sheffield Hallam University, an ECR and co-lead of AI, Robotics and Digital Innovations at Advanced Wellbeing Research Centre, and leads a "Secure and Privacy" by Design Cybersecurity Research Group.
His research focuses on building user-centric secure-by-design and privacy-by-design solutions in resource-constraint healthcare technologies including IoMT and Robotics. He also works for the University of Warwick and the University of Sheffield in supervising master's projects. He received an Inspirational Teaching Award 2020, from SHU (BTE).
He is an external examiner at the University of Winchester and the University of Plymouth. He was the PI of MARs Security and Privacy EPSRC UK-RAS Network, and completed 2 SIP projects as PI. He was one of the key REF 2021 contributors from the Cyber research team of SHU.
He is currently supervising 5 Ph.D. students and has published 30+ scientific journal papers and conferences.
Authored a book titled, "Optimising Application Performance in Ad Hoc Networks – 2017" and co-authored as a BCS-CREST Penetration Testing Working Group, "Penetration Testing: A guide for Business and IT managers, 2019". He is also a reviewer of IEEE (TVT), Elsevier (Wireless Networks and Information Security), and MDPI (Sensors, Applied Sciences, Information).
Our events are for adults aged 16 years and over.
BCS is a membership organisation. If you enjoy this event, please consider joining BCS. You'll be very welcome. You'll receive access to many exclusive career development tools, an introduction to a thriving professional community and also help us Make IT Good For Society. Join BCS today
For overseas delegates who wish to attend the event, please note that BCS does not issue invitation letters.
This event is brought to you by: BCS South Yorkshire branch