Join us for the 2023 BCS Special Interest Group in Software Testing (SIGiST) AGM to elect committee members for the coming year.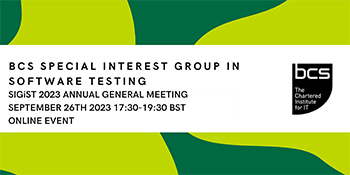 Speakers
BCS Software Testing SG Committee Members.
Nithin S.S., Head of QA at Lodgify and Founder, Synapse QA
Agenda
5:30pm - AGM opens
6:00pm - Questions and answers session
6:30pm - AGM closes
6:35pm - Talk by Nithin
7:05pm - Break out rooms for networking
7:30pm - Event ends
Annual General Meeting
You're invited to the 2023 BCS SIGiST Annual General Meeting!
This year has been marked by impactful events such as the Summer Conference that have strengthened our ties within the software testing community.
Whether you're a current BCS member or new to SIGiST, celebrate our achievements and collaborate.
We know Software Testing is now part of many roles in tech, not just traditional testing roles. If you participate in testing, we also encourage you to get involved and help shape the future of Software Testing!
During the AGM, your participation matters as you vote to select committee members who will champion software testing in the community in the upcoming year.
This event also presents an excellent opportunity to network with industry peers and individuals enthusiastic about advancing software testing as a tech career.
We will look at insights from our previous year and forthcoming plans and use the opportunity to hear from members to share ideas for meaningful contributions to the tech sector.
We are looking for members to apply for the following roles:
To discuss and register interest, please contact bcssigist@gmail.com.
Other Links
Synopsis
Nithin S.S., Head of QA at Lodgify and Founder, Synapse QA
Building features is easy; testing those can be easy too. But building the right features for the right people and testing it by understanding their needs is challenging.
About the speaker
Nithin is the founder of Synapse QA, a community space of test automation professionals and software quality advocates. He has nearly a decade of experience in the IT field with a focus on test automation delivery of web & mobile-based applications. Nithin actively runs test automation workshops, helps other professionals share their writings in the Synapse QA community, and works as Head of QA at Lodgify.
Our events are for adults aged 16 years and over.
BCS is a membership organisation. If you enjoy this event, please consider joining BCS. You'll be very welcome. You'll receive access to many exclusive career development tools, an introduction to a thriving professional community and also help us Make IT Good For Society. Join BCS today
For overseas delegates who wish to attend the event, please note that BCS does not issue invitation letters.
This event is brought to you by: BCS Software Testing specialist group