In 2021, Spyrosoft was recognised by the Financial Times as the fastest-growing tech company in Europe; find out how we achieved it.
Speaker
Andrew Radcliffe BSc MSc, CTO and Co-Founder, Spyrosoft
Agenda
6:30pm - Event starts 
7:30pm - BCS Dorset Branch AGM
8:30pm - Event ends
Synopsis
As a global technology services company, Andrew aims to take you behind the scenes, telling the story of how Spyrosoft was built from the ground up, describing a unique customer engagement approach, the successes, failures and learnings along the way before giving an insight into future plans.
In 2021, many companies faced another year of slower growth as the pandemic continued to constrain business activity. Delayed recovery in demand across European economies and the implications of Brexit complicated this trading period.
Accenture reported that half of all European companies reported a revenue or profit decline in the previous year and didn't expect immediate improvement. Based on revenue growth in the preceding three years, as compiled by data provider Statista, the Financial Times annual FT1000 review of Europe's fastest-growing companies identified Spyrosoft as the fastest-growing technology company in Europe.
This was achieved based on the highest compound annual growth rate in revenue between 2016 and 2019.
About the speaker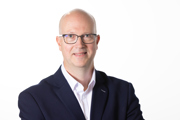 Andrew Radcliffe BSc MSc is an experienced CTO, technology entrepreneur and Co-Founder of Spyrosoft.
Having extensive software development experience in international markets, Andrew has been instrumental in leading the delivery of digital technologies into numerous companies around the world.
Andrew has over 30 years' experience in software engineering, working across the UK public sector, Telecommunications, Corporate Real Estate, HR, Aerospace and Legal within the UK, USA, Sweden, Poland and Austria. Formally a Digital Advisor to UK Government and Head of Development at Ordnance Survey, the National Mapping Authority of Great Britain, responsible for technology delivery and operation.
Andrew Radcliffe BSc MSc's LinkedIn profile.
Our events are for adults aged 16 years and over.
BCS is a membership organisation. If you enjoy this event, please consider joining BCS. You'll be very welcome. You'll receive access to many exclusive career development tools, an introduction to a thriving professional community and also help us Make IT Good For Society. Join BCS today
For overseas delegates who wish to attend the event, please note that BCS does not issue invitation letters.
COVID-19
BCS is following government guidelines and we would ask attendees to continue to also follow these guidelines. Please go to https://www.nhs.uk/conditions/coronavirus-covid-19/ for more information, advice, and instructions.
This event is brought to you by: BCS Dorset Branch