NCSC Certified Cyber Professional (CCP) scheme
The National Cyber Security Centre (NCSC) certification scheme sets the professional standards for cyber practitioners in the UK, supporting the development of a robust and respected cyber security profession.
Choose one or more skills-based roles, across three levels, to reflect your field of expertise
Take your place on the public CCP register and gain wider recognition for your competence and experience
Validate your cyber security credentials and your role in protecting your organisation's assets
Enjoy a fast track route to Chartered IT Professional registration when you apply for Senior or Lead CCP
Take up a year's free BCS membership when you become certified (offer available to non-members only)
Join a community of practitioners raising standards and building the reputation of the UK's cyber profession
What is the National Cyber Security Centre?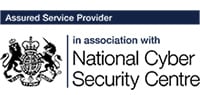 A part of GCHQ, the NCSC is the UK's technical authority for cyber incidents and threats, working collaboratively with other law enforcement, defence, the UK's intelligence and security agencies and international partners to help make the UK the safest place to live and work online.
Previously the Communications-Electronics Security Group (CESG), the NCSC was formed in 2016 to provide a single point of contact for SMEs, larger organisations, government and the general public. More specifically the centre is involved in monitoring threats, responding to incidents, and sharing information and expertise to develop the UK's cyber capability and minimise harm to networks, organisations and the wider society.
How do I become a Certified Cyber Professional?
Start your CCP journey by choosing from the six skills-based CCP roles - you can apply for more than one role at the same time. 
Security and information risk advisor
Cyber security / IA architect
Cyber security / IA auditor
Accreditor
IT security officer
Communication security officer
Which level should I apply for?
Identify the competence level that's right for you depending on your level of responsibility and influence in the workplace.
Practitioner
---
If your role involves working on routine information assurance (IA) tasks, under supervision, then Practitioner is the CCP level to choose; you'll need to hold a CCP-accredited qualification.
Senior Practitioner
---
Apply for Senior Practitioner level if you work independently on complex projects and normally lead a team of IA professionals - or you lead or oversee the work of other IA professionals.
I'm ready to apply
Once you've prepared your written documentation, begin your application by registering with us online.
When will my certification expire?
Your CCP certification is valid for three years subject to revalidation after 18 months.
To revalidate you're required to provide an up-to-date CV and CPD evidence demonstrating that you're maintaining your skills in your certified role / level. If it's deemed that you no longer meet the role headline statement for your role, as set out by the NCSC, your certification will be withdrawn.
To recertify after three years, when your CCP certification expires, you need to apply again by following the full application process.

What does it cost?
 
New application / recertification
Revalidation
Level
Primary role*
Per additional role
Per role
Practitioner
£145
£50
£75
Senior Practitioner
£585
£290
£100
Lead Practitioner
£895
£290
£100

*When applying for roles at multiple levels, the primary role must be at the highest level.
VAT applies to the above prices.

Already CCP certified?
Exchange cyber threat information in real time by joining the Cyber Security Information Sharing Partnership (CiSP) - the joint industry and government initiative set up to increase awareness and reduce impact on UK business. All applicants must be approved by BCS and the NCSC to join the CiSP.

Getting in touch
We're here to help with any queries you have about becoming a Certified Cyber Professional.
Call us on +44 1793 417 722 or email ccpsupport@bcs.uk
We take customer feedback very seriously and always act promptly to investigate any appeals: 
This qualification is not regulated by the following United Kingdom Regulators - Ofqual, Qualifications Wales, CCEA Regulation or SQA.