BCSWomen specialist group: Committee
Here are the members of the BCSWomen specialist group committee.
Andrea Palmer FBCS (Chairwoman)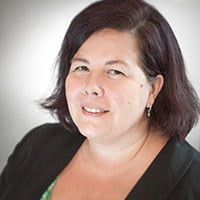 Andrea's career spans over 15 years' within the energy sector in two continents: Europe and Asia. She has highly developed project management and business analysis skills, solid problem solving abilities, substantial systems development and testing experience alongside staff management expertise in multi-cultured and international environments.
Her first degree is in Science (biology/chemistry) and she has recently completed her second degree in Psychology. Andrea feels passionately about encouraging and supporting women in technical roles. This is demonstrated by her involvement as: Treasurer for the British Computer Society's Women Group, a member of Women in Technology and a committee member of Women in IT&S and Potential which are both internal BP groups. She supports and advocates the graduate programme by mentoring and coaching individuals on the programme and undergraduates. She is also on the leadership team which is working with a local primary school to improve reading, maths, science and IT. She is a keen traveller who has travelled extensively throughout Europe, S.E. Asia and Australasia. Enjoys gardening and growing her own veggies.
Contact Andrea | LinkedIn profile
Sharon Moore MBE CITP FBCS (Deputy Chair and BCSWomen Committee member for Scotland)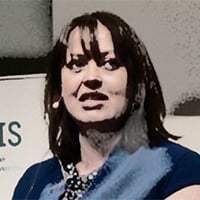 Sharon Moore MBE is IBM UK's CTO for Public Sector, marrying the needs of industry with the potential of technology and breadth of IBM to transform technical capability into real business results. You will often find her on stage discussing the value to the public sector of technological advancements such as AI, intelligent automation and cloud platform.
Sharon is also a board member of CENSIS, the Innovation Centre for Sensor and Imaging Systems. She is Deputy Chair of BCSWomen, leads BCSWomen activity in Scotland, and is a board member of Scotland Women in Technology. She was honoured with an MBE in the Queen's birthday honours 2018 for services to women in technology based industries.
BCS Women Scotland | Contact Sharon | Twitter | LinkedIn profile
Louise Brown (Secretary)
Louise Brown initially trained as a mechanical engineer and then studied for a PhD in robotic filament winding of composites. She has worked as a software engineer since then on projects ranging from textile CAD systems to automatic processing of ID documents.
She now works as a research fellow in the Polymer Composites Research Group at the University of Nottingham where she maintains and develops cross-platform open source software, TexGen, for 3D modelling of textiles and textile composites.
She spent several years working part-time from home while her two children were small. During that time she combined software engineering with clarinet and saxophone tuition. She also plays the guitar, leading the music group at her church, and enjoys handicrafts, particularly knitting. She also plays tennis (but isn't very good at it!)
Qualifications and professional memberships: BSc, PhD, MBCS
Contact Louise | Twitter | LinkedIn profile
Location: Nottingham
Jo Stansfield (Treasurer)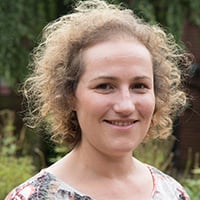 Jo has 20 years' experience delivering enterprise software to global industry, spanning oil & gas, automotive, aerospace and marine sectors. She is a passionate advocate for greater diversity and inclusion within engineering industries. Having held software engineering, product management and leadership roles, Jo is now studying an Organisational Psychology MSc and leads AVEVA's global Diversity and Inclusion programme.
Tristi Tanaka (Membership Secretary and CV Advisor)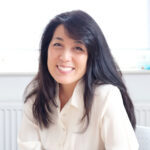 Tristi has worked over 20 years in and with technologists on transformation and change across both public and global private sector organisations.
An American living in the UK, I see myself as a 'UX designer for an inclusive workplace'. I believe in being the change I wish to see in the world and am passionate about equity, diversity, inclusion and belonging (EDIB) and keen to use design thinking and ethics-centred techniques to create, adapt and improve the way strategy, policies, processes, products and services are designed, delivered and evolve to meet the needs of users, communities and teams in the workplace and the intended and unintended impacts on wider society.
To make change that delivers equity, embraces diversity and enables belonging, we must start with ourselves – actively learning, engaging and working on ways to improve the design, build and use of technology for good. In the pursuit of being allies, we should seek out opportunities to give and share platform to the voices unheard and/or unseen by those in power.
Nicola Martin (Inclusion Officer)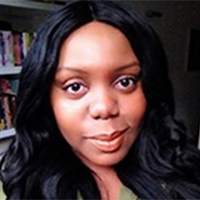 Nicola has over 20 years of experience in the tech industry and made the longlist as one of Computer Weekly's Most Influential Women in UK Tech, as well as their 2021 Women in Tech Rising Stars Top 10.
Nicola is passionate about increasing diversity and inclusion in software engineering. She is a committee team member for BCSWomen and the Special Interest Group in Software Testing (SIGiST). Nicola also mentors for the BCS and AFBE-UK. She is also Head of Education and Mentorship for Women in Tech Global® UK.
Nadia Abouayoub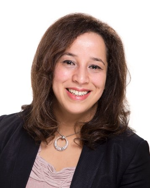 Nadia Abouayoub is a member of the British Computer Society's (B.C.S.) Artificial Intelligence Specialist Group Committee (S.G.A.I.) and the B.C.S. Women's Group. She has an MSc. in Computing and DESS in A.I. and Databases from the University of Dijon, and an MSc. in Formal Methods and the Security of Systems from Royal Holloway, University of London. She has been a member of several committees aiming to empower youth and women, most especially in the finance and new technology sectors. One such initiative saw her organise a VISIO conference with NASA for the World Youth Congress in 2004 to enable participants experience the intricacies of robot navigation and the exploration of Mars. She is the co-organiser of the Machine Intelligence Competition, run by the S.G.A.I.; and has organised a number of workshops aimed at educating the general public about Artificial Intelligence. She has a personal interest in the United Nations Millennium Development Goals for which she has organised many volunteer workshops. She launched her graduate career with JP Morgan, and has accrued more than 15 years' experience within the investment banking sector in such fields as Risk Management, Product Control and Technology in Trading Applications. She is currently a Strategist and Improvement Lead.
Rita Arafa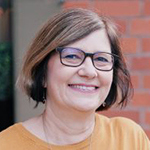 Rita has over 25 years' experience of working as a Senior Business Analyst and Manager in the IT development arena, both in the private and public sectors including the NHS, Healthcare, Insurance and Finance domains.
She has a broad set of skills gained over a variety of sectors but her main areas of expertise are in using her relationship building skills, working with people at all levels of seniority, managing technical BA teams and stakeholder engagement. Rita has worked in client facing roles and alongside development teams where she bridges the gap between non-technical and technical stakeholders. She also has experience of supporting process change.
Gillian Arnold (past Chairwoman)

With extensive experience in the IT industry, Gilllian setup her own IT Services and Staffing company, Tectre, which helps women find technology roles. Tectre provides staffing, training, and consultancy to the IT Vendors, Distributors and Resellers and has recently been offering consulting on Energy Efficient Computing.
Gillian's early career was spent working for IBM where she held customer facing training, technical, sales, business development, strategic marketing and consultancy roles.
Gillian has a long involvement with work for Women in IT, supporting both industry and academic institutions in their work on diversity. She currently sits on the board of directors for WISE, and won the 2012 Cisco / Everywoman In Technology award for Technology Inspiration of the year.
Contact Gillian | LinkedIn profile | Website
Safia Barikzai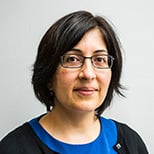 Safia Barikzai joined London South Bank University as a Senior Lecturer in 2007. She is now an Associate Professor. She was a PRECIOUS Awards 2016 finalist in the 'Outstanding Woman in STEM' category. She has taught on and led a number of different teaching modules, and was recently appointed the post of Business IT Pathway Leader. Safia serves as the Informatics Placement coordinator and is actively looking for placement links with potential employers.
Safia was a Lecturer in Computing at the University of Wollongong from July 2002 to March 2005. She was course coordinator for a Masters programme, which was taught offshore in Hong Kong and included an Industry component. She was also responsible for managing the postgraduate dissertations, working with link tutors in Hong Kong to ensure successful completion of the dissertations. She was a member of the School's Education Committee and participated in new course development. Safia completed the required teaching and learning certification whilst at Wollongong.
Maggie Berry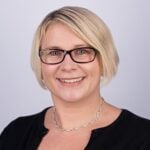 Maggie is the Executive Director for Europe for WEConnect International, a global organisation championing supplier diversity in procurement and helping majority owned women businesses to connect into the corporate supply chain. Since December 2012, Maggie has had lead responsibility for the organisation in Europe and her role involves developing corporate and public sector support as well as growing and supporting a network of c1,800 women owned businesses across Europe. Previously, Maggie ran an online job board, recruitment and networking forum for women working in the technology profession in the UK. Maggie remains informally involved with championing women in the technology profession; is a Freeman at the Information Technologists' Company in the City of London and is a judge for the Computer Weekly Most Influential Woman in UK Technology awards. In June 2019, Maggie was awarded an OBE in the Queen's Birthday Honours List in recognition of her services to women in business and technology. Being involved with BCSWomen supports Maggie's wish to see an increasing number of women who are succeeding and achieving in the technology industry – whether they're working in the corporate world or running their own business, are in the early stages of their career or are seasoned professionals.

Sue Black (Founder)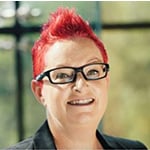 Named one of the top 50 women in tech in Europe in 2015
Professor Sue Black is an award-winning computer scientist, radical thinker and passionate social entrepreneur. She has regular tech columns in both The Guardian and The Daily Mirror, the latter being a tech agony aunt column called 'Ask Dr Black'.
Sue is a Professor in the Department of Computer Science at the University of Durham, an associate at DSRPTN an all
female technology and digital consultancy, and a mentor at Google campus for mums. A champion for women in computing, Sue is founder of BCSWomen the UK's first online network for women in tech, and #techmums, a social enterprise which empower mums and their families through technology. Sue is well known for her successful online and offline campaigning and activism around digital social inclusion and Saving Bletchley Park. Sue is a frequent public speaker, a social media-holic, mum of four and grandmother.
Twitter | Website | LinkedIn profile | Book: Saving Bletchley Park | Blog
Cornelia Boldyreff (Web Team)

Professor Boldyreff is a part-time Professor in the School of Computing and Mathematical Sciences at the University of Greenwich.
Past Positions: Associate Dean (Research and Enterprise) in the School of Computing, IT and Engineering at the University of East London; Professor of Software Engineering in the Department of Computing and Informatics at the University of Lincoln; Reader in the Computer Science Department at the University of Durham.
Qualifications and Professional Memberships: BA (Hons), MPhil, PhD, FBCS, Member of ACM and IEEE CS, Diploma in Marketing
Contact Cornelia | Twitter | LinkedIn profile | Website
Sarah Burnett FBCS (past Chairwoman)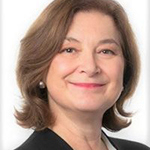 Sarah Burnett, past Chair of BCS Women & Founding Partner at Emergence Partners. Sarah Burnett is a strong advocate for women and diversity and serves as Chair of BCS Women, the women's group of the British Chartered Institute for IT, and founder of AI Accelerator, a programme of free AI events, seminars and webcasts by experts, to inform and educate participants.
Sarah a founding Partner, Head of Technology Immersion and Market Insights at Emergence Partners. She is a renowned industry analyst who advises enterprise clients on automation technologies, sourcing, competitive strategies and market trends and their commercial significance. She also helps technology companies successfully formulate their product innovation and go to market strategies for growth. Sarah stepped down as BCSWomen Chairwoman in Oct 2020.
Contact Sarah | Twitter | LinkedIn profile
Jill Clarke
Bio to follow.
Hannah Dee (Education liaison and coordinator)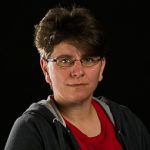 Hannah is a senior lecturer in computer science at Aberystwyth University, and has been on the BCSWomen committee since 2006 (deputy chair 2008-2012). She is particularly keen on encouraging younger women and girls to consider computing, and does a lot of work with schools and with University students. She set up the BCSWomen Lovelace Colloquium, our one-day conference for women undergraduates, and runs it every year. She also wrote the AppInventor workshop which BCSWomen ran as a world record attempt.
Hannah is also on the BCS Mid-Wales branch committee and on the BCS Academy women in CS research group.
Contact Hannah | Twitter | Website | LinkedIn profile
Location: Aberystwyth
Soheir Gallab
Soheir Ghallab is Chair of the BCS Business Change Specialist Group and Committee Member for multiple BCS groups, including BCSWomen and the Entrepreneur SG.
Soheir has enjoyed a rich and varied career in IT: from teaching maths and programming to becoming a software engineer – she has loved every minute. She says BCS feels 'like a second home' and is proud of making a difference to people.
Wendy Goucher
Bio to follow.
Jacqui Hogan (Past chair of BCS ELITE)
Bio to follow.
Fiona Macaulay (Marketing)

Fiona is an experienced CIO and Business Transformation Leader, delivering sustainable Business value and improved Customer experience through Digital & IT solutions. She has worked internationally, living in the US and Asia where she learnt the power of diverse teams. She has had a wide and varied career initially joining BP as a Graduate in Geology. She has successfully delivered across many sectors from Trading to Retail at BP, Publishing at Elsevier, Telecommunications at Vodafone, in Utilities as CIO for Thames Water and presently leading Global IT Delivery at Mars enabling Mars's Digital Transformation.
A leader with a passion for people, she actively develops capability and talent across her teams in technology and leadership. She is a Fellow of the British Computer Society and is a member of BCS Women Committee where she actively supports and encourages more women to have a successful and lasting career in Technology.
Helen Miles (Lovelace Colloquium Organiser)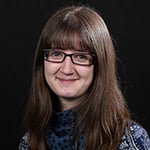 Helen is an associate lecturer in Computer Science at Aberystwyth University. She joined the BCSWomen committee in 2017, after acting as deputy chair for the BCSWomen Lovelace Colloquium, our annual one-day conference for women undergraduates. Following the 10th anniversary of the Lovelace Colloquium in 2017, Helen has taken the role of chair.
Helen has a strong interest in public engagement and science communication, helping to design and run outreach activities aimed at sparking an interest in science and computing. She is also on the BCS Mid-Wales branch committee.
Twitter | Website | LinkedIn profile
Location: Aberystwyth
Fran Paterson

Starting her career in market research, switching to 40+ years as an IT professional, in a broad spectrum of roles and public sector and business streams, Fran has recruited, trained and mentored her teams and wider groups. As a result, she provides, backed by a team of similar professionals, a CV review service for BCSWomen members.
Contact Fran | LinkedIn profile
Paula Quiller
Bio to follow.
Margaret Ross (Hampshire Branch, AGD, eLearning, Quality, GreenIT SGs)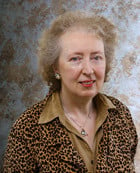 Margaret Ross is Emeritus Professor of Software Quality at Southampton Solent University. She was awarded an Honorary Doctorate from Staffordshire University in 2004, became a Freeman of the City of London and Liveryman of the Worshipful Company of Chartered Engineers in 2001. Already an FBCS, she was awarded an Honorary FBCS in 2007 and the BCS John Ivison medal in 2011. She received an MBE at Buckingham Palace in 2009 from Prince Charles for services to Higher Education.
Margaret is an active member of the BCS, the Chartered Institute of IT, and is on various Boards and committees, including the BCS Council and Trustee Board, Vice Chair of the Quality SG and the e-Learning SG, Secretary of the GreenIT SG and Chair of the Hampshire Branch. She is also on the BCS committee of BCSWomen SG, Cybercrime Forensics SG and the Animation and Games Development SG. Margaret's area of interest is quality and Professional Issues. She has also been Conference Director since 1992 of the annual series of BCS Software Quality Management international conferences, aimed at benefits to industry, and since 1995 of the annual series of international educational BCS INSPIRE conferences. She has edited over forty books, has examined over twenty Phds and supervises Phd students and lectures part-time.
In 1998 Margaret was appointed as Senator for four years onto the Engineering Council, then, on its demise, was elected onto its replacement as one of the 24 members to represent all the EC Registrants, onto College A of the newly formed Engineering and Technology Board. Margaret's original degrees were in mathematics. Margaret had been an Independent Member of PITCOM (Parliamentary IT Committee) and had been elected onto its Council. In 2001, she won the national PAWS Special Award for a TV soap idea that if televised could raise the profile of technology and attract youngsters, particularly girls, to consider a career in computing.
Contact Margaret | LinkedIn profile
Location: Southampton