Case study: Mark Kenny
Mark is Head of Healthtech, Surrey and Borders Partnership NHS Foundation Trust.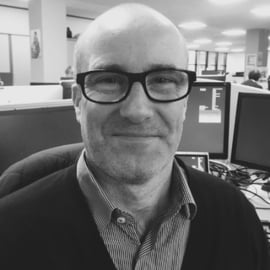 Mark was the first to pass the Certified Healthcare CIO (CHCIO) qualification in BCS' cohort one, after it was announced the internationally-recognised exam was to be available exclusively to BCS members in the UK.
From starting off in a clinical role as a Behaviour Specialist and Counsellor before moving into an array of different technical and digital roles within the NHS, Mark has had a varied and evolving career in healthcare, often creating and adapting roles for himself to fit the needs of organisation. Personal development has been incredibly important on his journey, but what in practical steps does this mean?
We asked Mark to tell us more:
'The digital landscape is changing rapidly. I'm acutely aware that in healthcare we regularly talk about 'digitising' the workforce, but in practical terms, what does this really mean? Slowly but surely, everyone is becoming 'digitised' within their daily lives, so the question for me is more about what is the framework by which we guide this progression and ensure we are meeting a required professional standard to deliver safe and effective clinical and business support?
'What are the levels of digital skill, knowledge and experience we expect of ourselves and our staff; what are we looking for when we recruit new staff? What bar do we set and what training do we need (and where do we source it from)?
'As a digital leader I value guidance in this area and joining professional bodies such as BCS has really helped with this. Those interested in seeking entry to or advance in a digital profession can really benefit from their active involvement, expertise and influence, particularly in this phase of rapid expansion with evolving roles and requirements, and the need to solve complex organisational and wider system clinical and business issues.
'Joining BCS also allowed me to take professional registrations which provides a degree of assurance to employers. Firstly, I gained RITTech accreditation, joining our directorate in its push to establish a base-line IT standard. RITTech is great for this, as it covers a wide range of disciplines and the process is quite accessible.
'From there, I focused on gaining FEDIP accreditation, with its greater focus on digital and informatics professionals within health and social care. The registration covers four different levels, from Practitioner through to Leading Practitioner, and is focused on progressing standards within our profession and making us more visible. That's why I liked the public register, which helps to build that trust. Taking these registrations also helped me to reflect on my knowledge and practical experience to date, and better recognise my own personal journey to this point.
'As a digital professional I feel we should strive for these ethical and professional standards at all levels, from entry level to senior leads, particularly because our work ultimately supports service users and therefore, we are both responsible and accountable for the provision of high quality and safe care.
'Most recently my line manager recommended I apply for CHIME CHCIO accreditation. Julie Andrews from BCS has been helping our digital directorate to consider the levels of accreditation we should strive for and has set up a range of workshops to guide this process and understanding of the benefits, another benefit of the support we get as an organisation from our work with BCS.
'I had been in discussion with my line manager about what my next career step could look like and how I could evidence my ability to perform as a senior digital leader level. This particular accreditation, focused on CIO's and IT executives, carries significant weight in the digital world in the US, and has a growing global following.
'I was part of the first cohort in the UK and as well as the excitement that came with throwing my hat in the ring, there was a significant part of me asking 'what if I'm not good enough, and if not, what could this do to my career?' However, the way that the experience is structured, within a few months of reading and learning more about the domains on which you'll be tested, through to mock papers before sitting the exam itself, it was very supportive. If you identify any gaps in your knowledge through this process, then that's another benefit as it allows you to talk with your organisation about how you can fill those as part of your development plan.
'I'm not going to lie, the exam is tough, and rightly so give the level of digital healthcare leadership skill, knowledge and experience you are being assessed on. When I sat the CHCIO exam itself, I honestly thought I had failed, but in fact, I had not only passed, I also became the first of the UK cohort to do so and received a strong set of results. Seeing those results and being congratulated by the CHIME president himself, who contacted me from America, was a big moment and really helped me challenge that 'imposter syndrome'.
'Up to that point, I had not really appreciated the level of experience I had gained within my career journey, and now I had concrete evidence within which to really push for that next leadership progression. In fact, no sooner had I received the results than we began talking about the next step, which for me was at a more strategic level, focused on either leading on our new hospital builds programme or our virtual care model. Being a part of CHIME also draws me into contact with a much wider group of senior peers, with the added benefits of international and cross-cultural pollination of ideas and principles.
'For any fellow digital professional, I would say that this journey of self-learning and development is vitally important, not only for your own knowledge, but to allow you to reflect on how far you've come and where you might like to go. It's about being bold and taking measured risks. Don't be afraid to get things wrong, you can't make new things using the same moulds, but take the time to really understand the problems you are trying to solve.
'Finally, I would say in healthcare it's important to demonstrate you are working at a recognised standard, adding to and assimilating best practice into your work, and problem-solving and sharing insights with likeminded folk interested in furthering that practice. This will also stand you in good stead for career progression and highlight areas of personal practice that may need focusing and additional learning. It's also important to see yourself as a role model to others; if you adopt that perspective it helps with reflecting on your thinking and behaviours as digital ambassadors.'