Volunteer community, new beginnings
We're working across the community to understand the experiences of volunteers - your successes and your challenges - so we can redefine our shared purpose.
Your role in the volunteer community is vital to the growing success of BCS. Our group networks form an essential part of the membership experience, providing rich diversity, debate and development opportunities. This activity simply doesn't happen without your dedication and commitment. But we know you face challenges along the way and there are opportunities to do things better, with the right support.
That's why we're launching our new beginnings programme, putting a spotlight on the contribution you make to our royal charter - and bringing clarity to our shared purpose.
Introduction to the programme
This inclusive programme combines a series of member conventions, online consultations, forums and discussion - enabling us to create a community manifesto and redefine our vision.
Together we can ensure our community thrives far into the future, is always far-reaching, and remains vibrant and relevant in an evolving industry.
Making the programme happen
June 2019 was the first opportunity to become involved with the new beginnings programme; together, we reviewed a draft manifesto for the community (a shared purpose and set of values).
A new purpose
Listening to feedback from the community - in 1:1s, Chair reports and representation to governance - it's increasingly apparent we need to sharpen the focus on our purpose and culture. To help us achieve this, we're creating the BCS Community principles.
These principles were created by you, with input from governance and staff. They define our values and inform how we run our community to support a progressive society of IT professionals.
Get involved
What does volunteering mean to you? There are many ways to participate in our new beginnings programme so be sure to have your say!
Monthly BCS Briefing
Our monthly BCS Briefing webinars will give member group volunteers a briefing on BCS workstreams and latest news.
Date to be announced.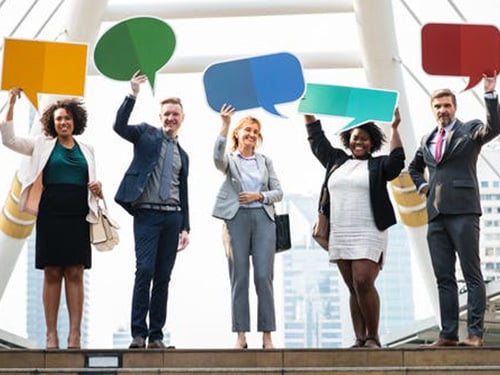 Community Forum
Take part in a new initiative, the Community Forum, where you can share your views and help define our purpose.