Berkshire branch: Schools
BCS Berkshire is committed to delivering a range of support for schools and other educational establishments in the Berkshire area.
We run an annual 'Project of the Year' where students aged 11-19 submit their personal computing projects such as a Smart Phone App or indie game and can be awarded prizes and the opportunity to network with the computing elite of Berkshire to get their foot in the door and possibly find a path to their future career.
We also judge competitions, run student-focussed events such as our Hackathon, link students with volunteer opportunities and support the University of Reading Student BCS chapter.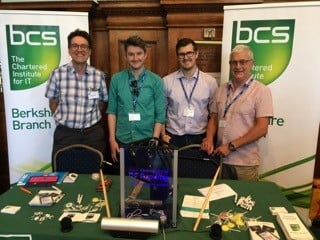 From left to right, the photo shows Mike Buckland from BCS Berkshire, Ashley Larking and Nick Phillips from BCS HQ, and team leader Chris Todd-Davies from BCS Berkshire.