Microsoft Fundamentals Certifications accredited by BCS, The Chartered Institute for IT
30 March 2023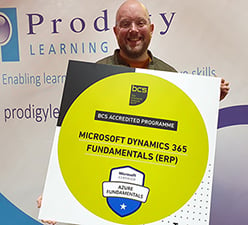 For the first time, Microsoft Fundamentals Certifications have received accreditation in the UK. Courses covering areas including cloud, AI, data, and security have received the seal of approval from BCS, The Chartered Institute for IT, the professional body for IT with its new Tech 10 accreditation.
To be accredited by this new BCS quality standard, courses must fulfil ten criteria to demonstrate excellent course development and delivery standards. Microsoft Fundamentals allows students and early career starters to demonstrate proficiency in the digital capabilities they need to do a given role.

Jen Wyatt, Director of Education at Microsoft UK, said: "Receiving BCS Tech10 accreditation for Microsoft Fundamentals Certifications for the first time is fantastic. It signifies another key step in our journey as an organisation to embed digital skills training across the academic curriculum in areas including cloud, AI, data, and security, to enhance students' employability with globally recognised certifications.

"We're delighted to partner with BCS to help close the growing digital skills gap in the UK through these courses and equip individuals with the skills needed to thrive in the workplace. At Microsoft, we're already demonstrating this through our UK Get On commitment to help build tech careers and connect 300,000 to tech job opportunities. Bringing BCS accredited certifications to students is another step in our promise to help individuals in the UK jump-start their careers."

Zoe Spilberg, BCS, Director of L&D Deployment for Education, said: "It's fantastic we are validating the Microsoft Fundamentals Certifications with the BCS Tech 10 accreditation. In such a fast-paced industry, digital skills and IT training must be of the highest quality and accessible to all.

"Our Tech 10 standard is a set of criteria that align with our core mission to make IT good for society. Confirmation that Microsoft Fundamentals succeeds in delivering each of the ten criteria, which also enhances the employability of learners, is great news."
The first cohort took the newly accredited Microsoft courses at the biggest Education Technology exhibition in the world, Bett, held at ExCeL London between the 29th - 31st of March.
Don Jones, Head of Data and Analysis at Ormiston Academies Trust (pictured) was amongst the first to pass and said: "I wanted to assess my practical learning against industry standards and benchmarks, gain certification and external recognition for my skills development. It's also the first step on my journey to more advanced MS qualifications, and I wanted to show my team that I practice what I preach."
The Microsoft Fundamentals which have been awarded certification include:
Microsoft Azure Fundamentals
Microsoft AI Fundamentals
Microsoft Data Fundamentals
Microsoft Security Fundamentals
Microsoft 365 Fundamentals
Microsoft Power Platform Fundamentals
Microsoft Dynamics 365 Fundamentals (CRM)
Microsoft Dynamics 365 Fundamentals (ERP)
Photo: Don Jones, who achieved Data Fundamentals certification.