Paul Fletcher to leave BCS at the end of the year
18 November 2021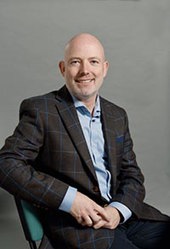 Paul Fletcher, Group Chief Executive of BCS, The Chartered Institute for IT will leave the organisation at the end of the year to take up a new leadership role in the tech sector.
After guiding BCS through a period of business and cultural change, Paul will become CEO of Nominet, the official registry for UK domain names, in February.
Rob Deri, who is currently Group Finance Director, will take over as interim CEO and the search for Paul's successor will begin in the new year.
Paul said: "As a BCS member I'll always be proud to belong to our community and I'm sad to be leaving such a committed group of colleagues and volunteers.
"It is over seven years since I joined the professional body for the IT industry. It has been a genuine privilege to serve the tech sector and our members - and to help the organisation navigate substantial change.
"I am particularly proud of how BCS adapted in the pandemic, and continued to promote professionalism, ethical practice and diversity in tech across a range of sectors from healthcare to education. I'm now excited to have the opportunity to lead another purpose-driven organisation."
BCS President John Higgins CBE FBCS said: "Paul has been an exceptional CEO and we are very sorry to lose him. He leaves BCS with stable finances and a strong executive leading a motivated and committed staff team. Paul has improved the effectiveness of BCS governance, providing strong support for its boards and committees.
"He recently led the development of a new three-year strategy that puts increasing and diversifying membership at its heart.
"Paul has been successful in strengthening our influence and promoting the digital education and skills that are essential to modern life. We wish him every success in the next step of his career."

Paul retained BCS' emphasis on digital skills, accreditations and qualifications during the global pandemic, as part of its mission to Make IT Good for Society.
His time as CEO saw significant and lasting influence over the future of computing education through the National Centre for Computing Education (NCCE).
Paul and his team also restored BCS to profitability after a regulatory change in 2018 had a significant impact on BCS' commercial revenues.
Under Paul's leadership BCS has become the leading name in the delivery of Digital Apprenticeship standards and end point assessments.