Welsh College wins top BCS sponsored industry award
09 July 2021
Gower College Swansea is the winner of a prestigious industry award sponsored by BCS. It came top in the Digital Apprenticeship Provider of the Year category at the Annual Apprenticeship Conference (AAC) Awards. Last year's winners, Manchester Metropolitan University, were the runners up.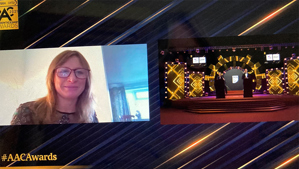 The annual awards are held by the Association of Employment and Learning Providers, (AELP) and the leading education magazine, FE Week. Annette Allmark Head of Apprenticeships at BCS said: "The AAC awards are a fabulous way to recognise the work done by colleges and universities when it comes to high quality training for apprentices.
BCS carries out the final check - called an end-point-assessment - whereby a digital apprentice demonstrates he/she is fully trained and competent. Over 11,000 digital apprentices have completed this process through BCS.
Annette added: "There are significant unfilled vacancies in tech jobs, such as cybersecurity and data analysis, and the only way to rectify that is to give the future workforce the skills they need, and colleges and universities."
Speaking at the virtual ceremony, AELP chief executive Jane Hickie said: "Our award winners have all been beacons of best practice throughout the pandemic.
"Means of training delivery have had to change, often with limited or no additional funding support, and yet we have a new generation of apprentices stepping into the skilled vacancies that employers are keen to fill.
"In my view, this year's winners are truly exceptional."
Co-host at the event Shane Mann, managing director of FE Week's publisher Lsect, said: "The quality of the overwhelming number of applications from across the sector was, as always, very high.
"But tonight's awards recognised and celebrated the very best work by apprentice employers and providers. I would like to congratulate all the winners and thank our amazing judging panel, sponsors and partners. We couldn't have done it without them."
Gower College Swansea was up for three awards at the AAC event - the joint-most nominations of anywhere in the UK.
In 2020, Manchester Met was the first university ever to win at the AAC Awards. The award recognised the University's commitment to working with employers in the digital sector. This year it was nominated for two AAC Awards for its Digital & Technology Solutions and Laboratory Scientist Degree Apprenticeship programmes.
The Awards were established in 2017 as a joint project by FE Week and AELP, with the national awards ceremony usually taking place at a Gala Dinner. Due to the Covid-19 Pandemic, the 2021 National Ceremony took place virtually.
Read the full write up from FE Week