Kevin Adams and his team at Cats Protection rose to the challenges that COVID-19 brought to the charity's rehoming processes... and discovered a nice shade of green along the way.
As Cats Protection's Director of Digital Transformation, Kevin Adams is always looking at ways to evaluate the charity's digital processes with the aim of making them streamlined, consistent and high performing. The COVID-19 pandemic accelerated many of the charity's digital priorities. 
COVID-19 meant our offices, centres and branches were closed from mid-March 2020. We had to help the charity's entire network adapt to remote working with virtually no notice. The landscape changed overnight.
Rising to the challenge
Our volunteers and staff are spread across the UK, from as far as Shetland down to Cornwall, Northern Ireland to Norfolk, and everywhere in between! COVID-19 restrictions meant all of our teams had to rethink how they were going to go about their everyday work: fundraising, providing relevant and up-to-the-minute cat care advice, managing our volunteers, campaigning, educating...
The IT department's seamless, invisible support was imperative in keeping the charity functioning. Routines and plans were changing day-by-day and we had to keep the workflow steady and easily accessible.
Our team were ready for the challenge through creative thinking, process re-engineering and implementing the use of readily available technology, quickly establishing new processes and methods of communication.
Putting the cats first
The cats in our care were of prime importance. One of the charity's key objectives is placing cats in loving new homes, but all our rehoming had been put on hold, in keeping with government guidelines. As face-to-face contact was prohibited, we needed to implement a new way of 'digital homing' as fast as possible.
Our previous method was both paper and time heavy. A potential owner would approach us, we'd then manually gather their details and the type of cat they were looking for. Sometimes we'd arrange a home visit to assess the best cat-match for them.
The data would be logged on our proprietary system as a 'prospective' new owner. When a suitable cat had been identified, we would assign legal ownership via a paper-based interview. Only then would the cat go to its new home. On average, this took two weeks.
The pandemic created the perfect storm. All our branches and centres were closed to the public and the cats already in care had to remain there. Veterinary practices were providing limited services only and neutering was not considered an emergency.
This meant we'd be looking at a massive kitten influx during the summer months - and we were already near capacity. We had to restart getting cats homed for their own welfare so we'd have room for more who needed our help.
The team was galvanised by this challenge and set about envisaging how the process might work where social distancing and COVID compliance was a must. We knew it needed to be a simple-to-follow process for both the charity's broad spectrum of volunteers and staff and for our potential new cat owners. It had to be customer-focused and measurable.
'It wasn't easy. The challenges of doing something new in a global pandemic can't be underestimated. Our biggest challenge was the organisational discipline to get the team focused and co-creating new ways of doing things. Cross-project communication was key and there was significant use of Microsoft 365 and Adobe to ensure nothing was overlooked or missed.
A new way of rehoming
Prospective new owners can now visit our Find-a-cat website, put in their postcode and a list of all the cats available in their area comes up. Biographies about the cats talk about their history, temperament, health status and age; we even have videos of the cats engaging with our cat care teams. People can then put in a request to digitally meet the cat.
For you

Be part of something bigger, join the Chartered Institute for IT.
Home visits and assessments are now done remotely using Microsoft Teams or WhatsApp. The data collected is recorded directly and digitally onto the Multisoft application, saving the travelling time to and from customer premises and reducing the teams' carbon footprint dramatically.
The legal ownership is facilitated over WhatsApp and Microsoft Teams but we decided to use AdobeSign to capture and store the legal documentation we require. AdobeSign has been so successful that we plan to expand its use for our face-to-face adoptions, implementing its use within our branch network, using it for our neutering voucher scheme and any other documents that need to be signed.
Almost everything is done remotely, ensuring we minimise the travel and paperwork that used to be generated. We use Outlook to schedule cat collection or delivery and to make arrangements digitally rather than face-to-face.           
Another green benefit to the new process has been regarding the management of personal data. Previously, much of this had been collected manually, needing paper copies to be manually stored or destroyed, which was a real waster of natural resources.
With our hands-free homing process, we can now store a far greater number of records in a more efficient and sustainable manner. An unexpected challenge was actually convincing people that digital signatures were both acceptable and legal!
Making a difference
We are rightly very proud of hands-free homing. The team transformed a very labour and energy-intensive process into something lean and green in a matter of weeks. Prior to COVID-19, the average length of the adoption process was 14 days. Centres using hands-free homing have reported that this has reduced by over 80% (to around three days) and by the end of June 2021, Cats Protection had rehomed over 26,000 cats via this new process.
As a charity, we were able to respond quickly, effectively and decisively to change a fundamental part of what we do. The data is showing us that cats are finding their forever homes quicker, the matching of people to the right cats is more successful and we are reducing our carbon footprint as a result. It's a win-win outcome, especially for the cats who need our help.
Case study: Frances and Molly
Frances Jeater, an actress from Richmond in Surrey, was one of the first people to adopt using hands-free homing.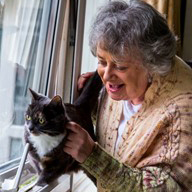 'My beloved cat, Bertie, died in January last year at the ripe age of 13,' said Frances. 'I swore to myself that I wouldn't get another cat but as the weeks passed I realised how much I was missing having a cat in the house.
'When we went into the first lockdown and all the adoption centres closed, I thought I'd missed the boat until a friend mentioned hands-free homing.
'I went onto the Cats Protection website and immediately spotted five-year-old Molly. Obviously, I couldn't go and meet her but the lovely Cats Protection team provided lots of information about her personality.
'A week or so later, Molly was delivered to my home and settled in beautifully straight away. She is utterly enchanting and makes me laugh every single day. I live alone and I'm not in a "bubble" so if it wasn't for Molly, I wouldn't have touched a living thing for over a year. Touch is so important to humans and being able to stroke and pet Molly has been wonderful.
'I have also found that having a routine with Molly - from nap times to feeding - has given much needed structure to my days over the last 12 months. Lockdown without Molly would have been very grim indeed.' 
To find out more about hands-free homing and how you can adopt a cat from Cats Protection, visit www.cats.org.uk/adopt-a-cat