Xiewen Xu will talk about UK virtual production market from the market characteristics to the skills needed and the ever-changing technology.
Watch the video
Synopsis
Virtual production has a rapidly growing area of content production since the COVID-19 pandemic. In combination with Computer-Generated Imagery, video game engines, and virtual reality technologies, virtual production enables a completely new pipeline of creating film and television, from virtual scouting to set design to real-time visual effects on set.
From April to October, 2022, Dr.Xu has interviewed a number of industry practitioners from studios, technical providers, and educators, such as DNEG, Epic Games, ARRI, Mo-sys, Creative Technology, National Film and Television School, Final Pixel, Target 3D, MBSE etc.
Based on the information and data she collected, her topics will cover innovations of virtual production, national competitiveness, macro environment and micro competitive landscape of the industry to identity of the factors and attractiveness that might impact the development of this emerging market.
About the speaker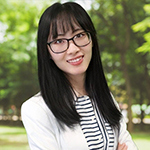 Head Speaker: Dr Xiewen Xu
Dr.Xiewen Xu is a Post-Doctoral Researcher at the National Centre for Computer Animation, Bournemouth University, participating in an AHRC-funded project about UK-China Collaboration in Cloud-based Virtual Film Production. In January, 2022, she participated in an Academy of Marketing-funded project that aims to provide valuable and practical guidelines for supply chain management in the era of COVID-19.
Our events are for adults aged 16 years and over.
BCS is a membership organisation. If you enjoy this event, please consider joining BCS. You'll receive access to many exclusive career development tools, an introduction to a thriving professional community and also help us Make IT Good For Society. Join BCS today.
This event is brought to you by: BCS Animation and Games Development specialist group, BCS Hampshire branch, BCS Dorset branch and BCSWomen specialist group