Using virtual elements to build an immersive scenario for teaching digital forensics.
Watch the video
Synopsis
Like a lot of recent teaching developments, the pandemic and lockdowns forced us to re-evaluate how to deliver engaging remote content. Together with limited staffing resources there was an urgent operational requirement for case study driven teaching which kept a high level of interactive student engagement in a remote setting.
The success of the resources trialled during this period led to the development of an outreach course which successfully trialled a whodoneit style of immersive investigation throughout the entire module. The result included animated character videos, interactive online and in person exercises for each activity area, and a virtual crime scene for additional reflection and learning. By the end of the module the students had solved their first mini digital forensics case. The technique has proven so successful in outreach trials it has now been developed into a full module for postgraduate students.
This talk will briefly describe the development journey, the resulting module, and look at results from trials to date.
About the speaker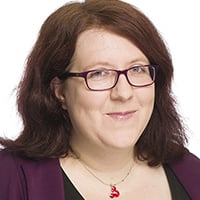 Professor Sarah Morris
Professor Sarah Morris is an academic and practitioner of digital forensics based at the University of Southampton. Sarah has been active in this field for over 14 years and has experience on working on a wide range of criminal, civil, corporate, and media-based investigations. Sarah is involved with various national advisories, and is a member of the Biometrics and Forensics Ethics Group (BFEG).
Before finding out about digital forensics Sarah spent some time as a high school teacher and has always had a love of outreach activities and education. Sarah previously ran the NCSC certified Digital Forensics MSc at Cranfield University, and taught across all modules. Having won multiple awards for her teaching across the years and having a track record of innovation she was appointed Deputy Assistant Director of Education for Teaching and Research at Cranfield Defence and Security. Having left Cranfield in September 2022 to join the University of Southampton she is now setting up Digital Forensics activity there and driving the way in immersive gamified education.
Our events are for adults aged 16 years and over.
BCS is a membership organisation. If you enjoy this event, please consider joining BCS. You'll be very welcome. You'll receive access to many exclusive career development tools, an introduction to a thriving professional community and also help us Make IT Good For Society. Join BCS today
This event is brought to you by: BCS Cybercrime Forensics specialist group, BCS Women, BCS e-learning SG, BCS Hampshire branch and BCS Dorset branch