Katy Housden, RITTech
Marketing Account Executive, St. James Place Wealth Management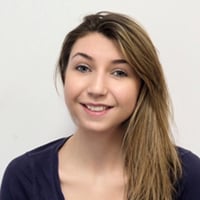 Former digital marketing apprentice Katy tells us about her amazing apprenticeship experience and how she became a trusted professional through obtaining her RITTech status upon completion of her apprenticeship.
Katy started her apprenticeship journey back in January 2018 as a digital marketing apprentice at Swindon Wildcats Hockey Ltd through Green Labyrinth Training.
Katy had landed her dream job, mixing her passion for sports with a creative flare.
She says: "I studied the Digital Marketing apprenticeship with BCS. Within my apprenticeship I got to learn a vast majority of digital marketing techniques, quickly and to a high standard and was able to learn these while working. I passed my apprenticeship in October 2019 with a distinction."
Katy on what she loved most about her apprenticeship…
I have always learnt better by being able to do it and try it for myself, so being able to have that independence and learn by being in the workplace is what I loved the most. Having the ability to build those relationships with my work colleagues and being in control of my own development only helped me excel further.
On how the apprenticeship landscape is changing…
There is an ever-increasing social pressure that if you want to be successful you need to go to university, and it is the only option to start your path to a high-level career. In this ever-changing world that we live in, I believe this is no longer the case with the correct quality apprenticeship.
The platform this apprenticeship has built for my future career and the mindset I now have from the communication and working within a team is advantageous and I cannot recommend an apprenticeship enough to anyone who is looking at kick starting their careers. I genuinely do not think I will be as high performing, as future focused and as career ready as I am today if I had not had the opportunities and learning this apprenticeship has provided me.
On her current role and future plans for her career…
I am now currently working at St. James's Place Wealth Management as a Marketing Account Executive. I plan to progress and develop my knowledge further within marketing while focusing on digital as my specialism.
On becoming RITTech registered and the online process…
I became RITTech registered in November 2019, around a month after passing my apprenticeship. The online process was very smooth. All the information was there and easy to navigate around.
What being RITTech means and the positives of being registered…
To be RITTech registered and have that opportunity to be recognised by potential employers or fellow professionals is advantageous to me as an individual starting in my professional career.  It not only shows my understanding of a digital industry but also that I have demonstrated my knowledge in numerous scenarios. I am proud to be acknowledged in achieving a recognised and respected standard like RITTech.
What she'd say to others who are not yet RITTech registered, about the value it offers…
With such a diverse and growing industry, having an established measure of personal abilities should be looked to be achieved as a priority for anyone looking to kickstart their careers.
I would advise other digital and IT apprentices to consider RITTech as it gives you that opportunity to be recognised by potential employers and fellow professionals to help push your future career forward.
If you have completed your apprenticeship end-point assessment in an IT or digital related field, ensure you join Katy on the professional register by going to: www.bcs.org/beyondepa