Nicole Covey, RITTech
Z Series Software Support Specialist, IBM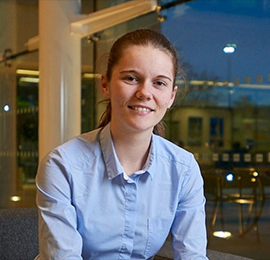 When did you become RITTech registered and how did you find the online process?
Ten people from IBM, including myself, were involved in the RITTech pilot and so I was one of the first registered technicians. I went through the process and then gave feedback on it back to the RITTech team.
I found the application to be nicely laid out - it was simple and didn't take too much time. The wording was easy to understand.
What does being RITTech registered mean to you? What are the positives of being RITTech registered?
Having RITTech gives you a nice feeling of recognition - it gave me more self-belief. People said I was good at my job but now I have something which says I can do this.
Becoming RITTech registered made me push myself more and now I don't sit in my comfort zone; I have more confidence.
How do you feel about the fact that your company has got on board with RITTech?  
It felt good that IBM backed the RITTech launch as they obviously trusted us with something big. It is important for big companies to support RITTech as it develops individuals.
I can now use RITTech in my post nominals and as I work with clients a lot and give recommendations, it shows they can trust me and builds that relationship.
Why is it important that we have a recognised standard in the IT industry?  
It is important for our clients to have a standard in the IT industry; they have to trust that what you say is credible.
When customers and companies see my RITTech title, they ask what it stands for and then are impressed when I tell them - and that is a great feeling.
What would you say to other IT technicians that are not yet RITTech registered?  
Do it - it's not too taxing and doesn't take up a lot of time. The benefits are ongoing and RITTech has developed my career and me as a person. It is just so worth it.  
The accompanying BCS membership has allowed me to build up my contacts in the IT industry and there are fantastic events that I can go to which allows me to network with other professionals.
The IT industry is always changing and the membership keeps me up to date with what I need to know.