BCS 2014 Green IT competition
Strap line for a Green ICT 2024
Define a 'Future Vision' for Green ICT in 2024
Aldous Rees Announced as Competition Winner

Aldous Rees is the Winner of the BCS GreenIT SG 2014 Competition, for a strapline for a Future Vision of GreenIT for 2024, ten years ahead. Aldous will be expanding on his idea, both at Southampton Solent University on Wednesday 18 March as part of the annual Science and Technology Week, then after Easter at BCS London.
Aldous Rees is interested and passionate about protecting and conserving the marine environment. The future of the marine environment is currently under threat from billions of items of plastic which float within our oceans. These particles threaten a wide range of marine species. A green solution is needed to help rid the ocean of plastic pollution; a robot could be designed to do this very job. These robots could be powered by wind and solar power and help develop a better understanding of oceanographic processes. This will help to assure a green future for our oceans.
Aldous studied for a degree in Geography with Marine Studies at Southampton Solent University where he was involved in a number of projects looking at pollution from Micro-plastic Particles.
He then went on to study a masters at Plymouth University in Applied Marine Science and is currently studying as a PhD student at Southampton Solent University. The PhD is studying the breakdown of zinc sacrificial anodes which prevent corrosion of metal hulls and components on pleasure craft. The zinc is released into the marine environment and adds to the already high metal levels present in estuaries.
The competition: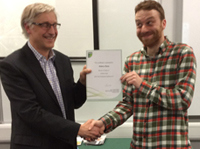 The BCS Green IT Specialist Group (SG) was for students at Universities, Higher and Further Educational Establishments, open to BCS and non-BCS members, in the UK and overseas. Entries were invited from students at all levels of study including those on postgraduate, undergraduate or other further education courses, whether in full-time or part-time study. They were submitted via a single Point of Contact (PoC) at each educational establishment. These PoCs were then asked to aggregate the entries and email them to us as a single file. The theme was to define a Future Vision of GreenIT in 2024 (ten years in the future)
So in detail the process was
Email your nomination for your establishment's single PoC, normally a lecturer, to GreenITcomp@bcs.org, copy to Margaret.ross@solent.ac.uk, with GreenITcomp in the subject line
We then posted the name of the nominated point of contact along with that of the establishment, its location (town and country) on our webpage, for other students at that establishment to see and use to submit their straplines
Each student was allowed to propose up to 5 strap lines