Andy Moattari receives Meritorious Service Award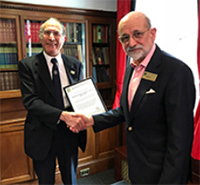 This nomination has been made in recognition of Andy's services to Specialist Groups, the Institute and the public.
Andy has been an active member of the BCS for over 20 years and has considerably enhanced both its internal Member Group processes and its external goal of making IT good for society.
Andy is currently the deputy Chair, Communications Officer and Recording and Broadcasting Officer of the IRMA SG, as well as Recording & Broadcasting Officer for the North London Branch and the Business Change Management SG. Andy is also a current member of BCS Council. As an active Council member Andy has significantly contributed to the Institute's overall governance.
Andy introduced the video recording of IRMA events and liaised with the Institute for the best solution. He has documented the necessary processes for use by other MG's. By recording SG events and making them available to the public, Andy has significantly contributed to the Institute's goal of Making IT Good for Society and underpinning its Royal Charter. He also created and manages an active LinkedIn group for IRMA members.
In 2015 the IRMA committee voted for the publication of IRMA videos in the public domain in order to meet the Institute's strap-line of Making IT Good for Society. Andy has since published the videos on YouTube, thus making good on the Royal Charter's requirement of bringing IT to the attention of the public. Andy created a standard naming convention for the videos to facilitate retrieval using a search engine. This further introduces the Institute and IRMA to the public at large.
He created an Invitation to Tender (ITT) process for IRMA's revision workshops and the subsequent process for evaluating the capability of respondents to successfully deliver these workshops (Trainers' Key Performance Index). Andy's creation of the revision workshops Invitation to Tender (ITT) and subsequent evaluation process ensured proper governance of the process and thus protected the Institute from potential allegations of any bias in the selection of the trainers, or mismanagement of the process.