Ian Speller receives certificate of appreciation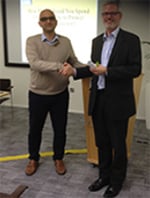 Ian has extensively contributed to both Information Risk Management Assurance (IRMA) and the Institute by the creation and exercise of excellent budgetary and financial management processes. He created and enhanced the Standard Operating Procedures and Risk Register for the Treasurer's portfolio within IRMA. This has become the reference standard for other Member Groups' treasurers.
Ian has shared his knowledge of the Treasurer role to other Member Groups within the Institute and as a member of the Community Board Finance Committee has contributed to the wider budgetary control of Member Groups.
'Ian Speller has been on the Community Board Finance committee for a couple of years now and takes an active and valuable role. He is one of our key members, and has completely redeveloped our Supplementary Funding Form to allow a better understanding of what is required and to give additional information to the Finance Committee.'
Ian Sunley, Chair, Community Board Finance Committee
'Ian is a valuable asset to our specialist group IRMA in the BCS. He is incredibly devoted to making this group successful. He always goes above and beyond to get things done and he has been contributing to the success of IRMA for many years. We are delighted to nominate him for the Certificate of Appreciation and wish him all the best and success in future.'
Reza M Alavi, Chair, IRMA SG, 2016-present