John Mitchell receives John Ivinson Award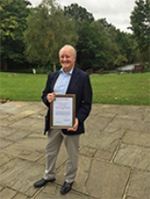 Our colleague, previous IRMA chair, current committee member and distinguished member of BCS, Dr. John Mitchell has been awarded the John Ivinson award that recognises the outstanding services of an individual member.
This was announced in today's BCS's 60th anniversary. The citation for the award states that John's outstanding and consistent service over many years to the benefit of BCS, and his contributions in terms of enthusiasm and positive approach to many areas, including his contributions to attract members, his works on the risk and audit committee and providing excellent frameworks to develop and establish a high standard activities within the IRMA specialist group and wider BCS community.
I'd like to add my personal gratitude to John. He is one of the most amazing colleagues I ever had and I am privileged to know him for the last few years whilst working closely with him in the IRMA committee. He is always ready to help and support his colleagues and fellow BCS members. His active participation in our events as a speaker or organiser has always been a force of innovations, positivity and outstanding learning practices. He continues his amazing service to us and recently created and established the role of "Workshop Organiser" in our committee to which he contributed massively.
IRMA is one of the outstanding and successful specialist groups in BCS, with over 2500 members worldwide. Many colleagues contributed to IRMA's achievements. However, the current framework, constitution and guidelines which create a strong basis for IRMA's activities, founded mostly by John whilst he was serving as Chair of IRMA.