Nursing specialist group: Executive committee
Here are the elected members and co-opted members of the Nursing specialist group committee.
Chair
Frances Beadle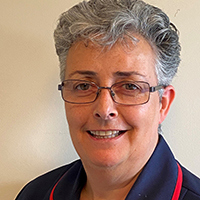 Currently employed by NHS Wales Informatics Service to advise on the standardisation and digitalisation of nursing documentation across Wales. The overarching aim of the digitalisation is to improve standards of documentation, give nurses time back to care at the bedside by the delivery of a "Once for Wales" electronic record in collaboration with governmental and national nursing leaders.
Previous experience includes advising in the development of nursing documentation standards, policies and guidelines at local and national level to support the provision and delivery of safe effective care in addition to providing leadership with data to support key performance indicators and service improvement.
Fran's unique mix of nursing knowledge and technical ability have translated into transformative improvements for patients and clinicians resulting in being awarded Innovation and improvement awards in both the user and patient categories by Cerner Middle East. Holds a MSc in Health Informatics alongside her Registered Nurse qualification in addition has presented at international and local conferences on the subject of clinical informatics. Currently Chair of the BCS nursing committee, Member of the WNMC and Welsh representative on the 5 Nations Nursing Informatics group.
Member
Dawn Dowding
Bio to follow.
Member
Annette Gilmore

Annette is an experienced nurse and midwife with a BSc and MSc in Economics and PhD in Health Services research. Annette joined the Professional Record Standards Body (PRSB) as the Assurance Committee Chair in 2014 and then became Head of Clinical Assurance during its formative years; helping shape the organisation as the recognised UK body for the development and assurance of record standards for patient electronic health and care records (EPRs). Currently her role, as clinical advisor and project lead, focuses on initiatives that aim to align patient information collected in EPRs with secondary uses data collections.
Annette has been involved in nursing and health research and informatics for over twenty years, starting her research career in the National Nursing Research Unit, at Kings College London, and then moved to the UKCC (now NMC) before returning to the NHS to be involved in research and development in clinical practice. For her PhD thesis she developed and evaluated the viability and benefit of a regional sickle cell patient registry for the dual purposes of direct patient care and research and from this a record assess system for patients to access their hospital records on line. She is passionate about good record keeping and freeing up time for nurses and professional colleagues to care.
The goal has to be to collect information once and reuse and share appropriately. IT is a great enabler when used effectively but current lack of interoperability between systems and teams results in similar information entered multiple times in different formats at every point on the patient's care pathway. Then the constant demands for 'data' to monitor, research, audit because the information cannot be easily extracted from the IT systems results in huge administrative burden for staff. She is also now a granny so wants to support and cajole the next enthusiastic generation to continue the mission to ensure IT becomes 'the great enabler' for delivering high quality safe care (and she can spend more time being a doting granny).
Matt worked for 12 years at the South London and Maudsley NHS Foundation Trust across a range of clinical services including the National Psychosis Unit, Bethlem Royal and in Early Intervention for Psychosis services in the community in Lewisham. He assisted in development and roll out of the Trust's pioneering electronic records system - the Patient's Journey System, one of the first electronic systems to be fully adopted by an NHS FT in the UK.
Member
Nick Hardiker

Nick Hardiker is Professor of Nursing and Health Informatics and Associate Dean (Research & Enterprise) at the University of Huddersfield School of Human & Health Sciences in England. Nick has a background in Nursing and has Bachelors, Masters and Doctoral degrees in Computer Science from the University of Manchester. He has nearly 25 years' experience of theoretical and applied research in Health Informatics, with a particular focus on Health Records and Terminologies. Nick holds an adjunct position of Professor at the University of Colorado, Denver, USA and is an elected Fellow of the American College of Medical Informatics. He acts as consultant to the International Classification for Nursing Practice Programme at the International Council of Nurses, as Editor-in-Chief of Informatics for Health and Social Care, and as a member of a number of national and international standards bodies and think tanks.
Member
Maggie Lay

Maggie qualified as a nurse in 1984 and worked for many years in community settings. Frustrated at how inefficiently and ineffectively information is shared about patients and yet how much is written about them, she found herself working in informatics in 2009 as a clinical transformation facilitator. Deploying RiO as part of the National Programme for IT was a sharp learning curve.
She now works for South Central and West CSU, working primarily in Oxfordshire, Buckinghamshire and Berkshire on interoperability projects. Her role is chiefly in transformation, ensuring systems deliver clinical benefits. She is also a clinical safety officer and has more than a passing interest in Information Governance.
She is still frustrated that nursing information isn't contributing efficiently and effectively to the shared care record and is committed to ensuring that nurses have the skills, processes and tools to take full advantage of digital health opportunities.
Member
Sharon Levy MBCS

Sharon is a registered nurse working as a research and development lead in a third sector organisation and as an educator at the University of Edinburgh. Sharon has a long history in nursing informatics and digital health as a clinical informatician and as an active researcher. Sharon is also the current treasurer of BCS Health and Care Scotland. When he is not working Sharon is playing on the Xbox with his wife and 3 children.
Member
Siân Perry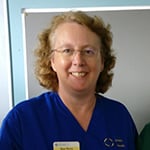 RGN. Dip Nursing, ECDL. BSc Professional practice in Health care, BSc RN (Child)
Siân qualified as a Registered General Nurse in 1988 and as a Children's Nurse in 2004. She is currently working as a paediatric professional and practice development nurse in West Wales where she spends her time teaching clinical nursing and digital literacy skills to front line paediatric nurses. She was one of the first cohort of the Foundation of Nursing Studies Inspire Improvement programs and has just completed her first year of the MSc in Digital skills for health and care professionals.
Siân has had a varied career in front line nursing across the UK and is passionate that digital literacy combined with easily accessed informatics and data will benefit the all health care users, their families and health care staff. When not working and studying as a nurse, Sian enjoys the local beaches and sailing, rowing or fishing with her family.
Member
Ian Woodburn

Ian has been nursing and worked in the NHS for 37 years and is currently employed as a C.N.I.O. (Chief Nursing Information Officer) for The Northern Care Alliance NHS Group (Salford, Oldham, Rochdale, Bury & North Manchester Hospitals). Ian's role includes supporting nursing/nurses on the digitalisation journey across the group, facilitate digital standardisation to reduce duplication and support clinical practice. Ian also works on digital projects to implement the Clinical Safety Standards for I.T.
Ian has had a varied Nursing career and his previous experience includes - Clinical Lead/Community Matron, District, Practice, Family Planning Nursing, Manager / Clinical Lead of a Walk In Centre, Senior Nurse at NHS Direct, Surgical Nurse, Business Manager for Long Term Conditions, Governance Lead for Paediatrics, Cancer Service Improvement Lead for the Strategic Health Authority, RCN Chair of the eHealth Forum & Chair of the BCS Nursing group.
Ian has a passion for nursing and continues to promote the value of nurses embracing technology to support and improve their practice.
The future, Ian would like to see large scale empowerment of nurses to push digital boundaries in support of nursing practice and the widespread adoption and implementation of the Clinical Standards for I.T.