Pride specialist group: Committee
Here are the members of the Pride specialist group committee.
Chair
Kavita Kapoor (She/Her)

Kavita Kapoor is an award-winning technologist who creates Technology for Good, focusing on artificial intelligence and education. She is passionate about the need for creative play in technology.
Her current portfolio covers; Founding Member and Strategy Director of the Federation of Humanitarian Technologists, Senior Lecturer Product Management for Emerging Technology at Code University and Trustee of South East River Trust.
She was elected the Founding Chair of the BCS Pride specialist group.
Vice-Chair
Nicola Martin

Nicola has almost 20 years of experience in Software Testing working on high profile projects across different industries. She specialises in working with onshore / offshore teams to create and set up test strategies and to continually improve processes and ways of working to deliver results.
Nicola has mentored professionals wishing to develop a career in testing and is passionate about increasing diversity and inclusion in the Testing Industry.
Nicola is currently working in the AI and Data Science field as Head of Quality at Adarga.
Treasurer
Jon Ruff (He/Him)
Photo and bio to follow.
Inclusion Officer
Dave Donaghy (He/Him)

Dave is a BCS Councillor and was elected to Trustee Board in 2021. He has worked in Bristol and Bath as a software engineer for around 25 years and is currently at Hewlett Packard Enterprise in Bristol.
He works voluntarily as a trustee of the League of Friends of the Royal United Hospitals (Bath), and as a STEM Ambassador in local schools, delivering Python software development material to Key Stage 5 students.
He is currently championing efforts to address digital poverty and digital exclusion, and his written and spoken extensively on this over the past year.
Education Liaison Officer
Maddy McMurray (They/Them)

Maddy is a non-binary computer science student with the Open University. They worked in finance and operations before developing Idiopathic Intracranial Hypertension in 2016. Becoming ill changed their entire life, as they could no longer work or travel at the same pace. After three years of recovering and planning what to do next, they decided to go back to their childhood passion, computers! 
Maddy built their first "website" in 2005, as part of their early exploration of the internet. It was nothing more than basic HTML, but it was enough to spark a lifelong curiosity. They decided to begin study with the OU in 2019, and have been soaking up everything they can ever since. They are passionate about making tech accessible and inclusive for everyone, regardless of disability, financial situation, or background.
Maddy has since gone on to present work at the 2020 Lovelace Colloquium, be selected for a Santander Reskilling Web Development Bootcamp, and is the Education Liaison Office for the Pride SG BCS panel. They also regularly volunteer with the STEM Ambassadors. 
In their spare time, Maddy likes to build robots and their small robot army is slowly taking over their house! When the weather is decent, they can be found kayaking with their wife on the River Crouch or just off Two Tree Island.
Secretary
Ian Robotham (He/Him)

Ian is based in Scotland and works in Higher Education. He has a background in software development, initially working as a Software Developer building Learning Environments for healthcare programmes, before moving into development management and leadership.
In his current role he leads a busy section of the Digital directorate, with a portfolio of over 150 applications of varying vintages, balancing the needs to keep business operations going, modernise technology platforms, deliver rapid solutions to meet urgent customer needs and balance the budgets.
He is comfortable operating at a range of levels from the deeply technical to the long-term strategy, as well as working with a range of stakeholders with varying seniority and skill. In addition to his technical expertise, Ian has a strong interest in Wellbeing and Equality, Diversity & Inclusion and leveraging technology and management techniques to make the workplace a better environment for all.
Early Careers Advocate
Edmund Rogers (He/Him)

Ed is part of the connected vehicle cyber security at Ford Motor Company, leads the UK board for PRIDE, Ford's Employee Resource Group for sexual orientation and gender identity, and is the vice-chair internationally. Before rotating into Ford, Ed was part of the cybersecurity team for FCE Bank.
Prior to this, Ed worked in a variety of IT roles through first to fourth line support, web design and software testing. He graduated from Bournemouth University in 2012 with a bachelor's degree in Forensic Computing and Digital Security, having specialised in Information Assurance and the Human Factor in his final year.
His work with PRIDE includes aspects of the day-to-day running of the group through such endeavours as the Buddy scheme, Allies programme, and policy discussions, as well as special projects such as recruitment events, awareness sessions and pride celebrations.
In 2021 Ed founded Driving Pride, a cross-automotive sector LGBT+ network working with a number of organisations helping to champion inclusion and develop diversity strategy; he has since been elected as its first chair. He is also a founding member of BCS Pride and currently sits as its Early Careers Advocate. Ed is a trustee of a youth water activities charity and a school governor.
Ed is also an Army Reserves Officer serving in the Royal Corps of Signals, a member of BCS, the IET, and the Security Institute, as well as a freeman of the Worshipful Company of Information Technologists where he sits on the Equality Panel.
With a love of old cars, old houses, and old jokes, Ed was born in the wrong era; he is an eclectic mix of modern technology and smoking jackets; a jazz lover, whisky drinker and history explorer.
Community Lead
Arnoldis Nyamande
Arnoldis is a Policy Practitioner and tech enthusiast, working as a Policy Manager at BCS. Arnoldis is a passionate advocate for diversity and inclusion and allies herself with causes to which she is committed.
In her current role, Arnoldis fulfils interests by supporting BCS SGs like Pride and using her policy expertise and lived experiences to widen participation and secure a seat at the table for those who aren't traditionally involved in the policymaking process.
In her spare time, Arnoldis enjoys the outdoors, travel, and indulging in the latest Louis Theroux documentary!
Robert Ogah (He/His)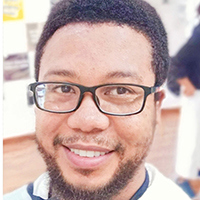 Robert is a Certified Forensic Accountant and has worked in Internal Audit, Compliance, and Financial Advisory Services spanning across the Pharmaceutical, Insurance, Banking (Micro finance),Oil and Gas (downstream), Logistics, Bureau De change, and the Hospitality sector.
He is also a professional member with the Cyber Security Expert Association of Nigeria (CSEAN) and an associate member with the Association of Certified Fraud Examiners (ACFE) amongst other professional bodies.
Robert also served as a pioneer volunteer facilitator with the Lagos state ministry of education on its Ready Set Work (RSW) project while the project lasted.
He hopes to see a world where everyone can be who they really are without prejudice.
Robert teaches and holds a 3rd degree black belt in Shotokan Karate, loves to play the cello in his spare time, and also loves to play around developing smart contract on existing crypto eco system.
Membership & Communications Lead
Jeno Villaverde (He/They)

Jeno is a senior marketing professional with over 10 years of experience in the B2B SaaS (Software as a Service) space. He is naturally progressive and passionate about digital marketing trends, marketing automation & technology. Recent activities include Founding Chair of PrideGen (BrightGen.com's Pride ESG); RAD (Reevoo.com Alliance for Diversity), and a Mentor & member of Omnicom Group's Asian Leaders Circle (ALC).
When outside of work, they can be found on a beach or advocating for equity, representation, diversity and inclusion, alongside a lifelong commitment to animal rights where every dog has a peaceful home and thoughtful future.