Hildegard (Hildi) Franke
Hildegard Franke was born in May 1959 in Marl, a town in the Ruhr, West Germany. She studied English, Russian and Education at Münster University, before coming to England as a languages assistant in 1982.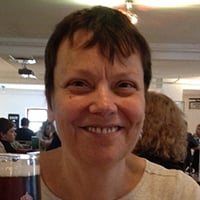 Deciding that a life of teaching school-age children was not for her, Hildegard left University, relocated to Northampton and took up a post as an assistant practice manager in a local GP practice. While there, she was instrumental in introducing the new VAMP GP system. Subsequently she was asked to join VAMP, now Cegedim Vision, with whom she worked for 26 years.
She became an expert in health informatics, gained an MBA, and became increasingly involved with the PHCSG, joining the committee and bringing the suppliers' perspective to the Group.
It was here that she met her husband-to-be, Ian McNicoll and was 'rebranded' as 'Hildi' by her new Scottish family, though she remained resolutely 'Hildegard' to her German family and past colleagues. In 2015, Hildi decided to leave Vision and join Ian's company, freshEHR, bringing with her very significant educational and informatics skills.
Hildi was diagnosed with breast cancer in 2010, which recurred in 2017. Her blog, 'ChemoHildi' gave an insight to the challenges of being a cancer patient, and to her spirit, undaunted until her death in October 2018.
The Early Career Award has been renamed in honour of Hildi Franke since 2023.