Getting personal: Real-life experiences
Amber Shand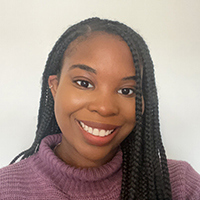 Amber is a frontend engineer at American Express. She spoke to CBF's Iraah Wehner on getting support in her career journey. 

The support definitely made a difference because we're all in this together, we're learning how to code so that we can land the Sky graduate scheme. That's the whole point. It made a big difference to be able to talk about our struggles.
Remember when you come from a non-technical background you almost feel like you have to prove yourself more because you have more people doubting your abilities compared to when you have a computer science degree. I feel like people wouldn't have doubted me as much, because that was feedback that I kept receiving.
So we talked to each other whenever feeling really overwhelmed with all the rejections we were facing. There was also support from Coding Black Females, to see women who look like me helped.
Beverly Clarke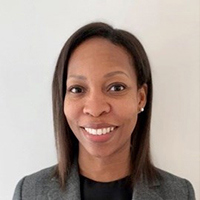 Beverly is an author and education consultant. Here she speaks to Johanna Hamilton on how being a woman of colour has impacted her career.
A long time ago at work, I was pulled aside and told, 'don't apply for this role because you've got young children you won't be able to do it.' Now what shocked me at the time and to be honest, it still does - I'd never been off sick, I'd never asked for time off to look after my children, I turned up every day... So, that's a form of discrimination. What do you do when your face just doesn't fit or your gender?
So, that's the ceiling which has been imposed. I've also had a situation where I was told, 'so you're gaining a qualification? That's really great. And once you've got that, what are you going to do with it? Because there's no room for you here.'
When you start putting them together you start to realise discrimination is at work. What encouraged me to start thinking about it was the events of two years ago with the George Floyd incident, and I didn't realise how much these issues have affected me.
Read the full interview with Beverly
Dorothy Monekosso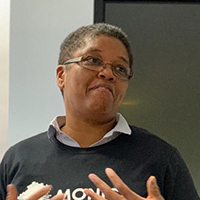 Dorothy is the first black woman professor of computer science. She told CBF's Krystal Douglas about her experience in academia. 
In academia, you tend to be left to just get on with it and it's up to the individual to learn to progress. I think that's where the biggest difference is between academia and industry, but this is also an opportunity for huge improvement to help younger people and those who are still early in their career. University tends to let you sink or swim, especially for young black women.
If you haven't 'made it' when you get to a certain level, you can be stuck as a junior lecturer and cannot make progress. There's barely any chance of getting back on track. This is where we are seriously lacking because if young researchers and emerging talent are given more support it could make a big difference in terms of getting them into an academic career.
Nicola Martin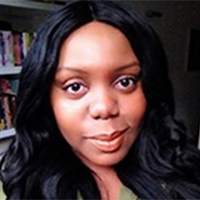 Nicola is head of quality engineering at Adarga, a UK-based AI software company. She spoke to CBF's Zarina Cama on change.
There were seismic changes in approaches to Diversity and Inclusion in 2020. The intersection of the death of George Floyd, Black Lives Matter protests and the pandemic was huge. People made life-changing decisions about how they wanted to live and work.
Many companies have started D&I initiatives and have had to pay attention to the diverse needs of their employees. Now stats are being published related to diversity in tech, we can see there is still a lot of work to do. The tech industry needs to encourage more diversity to ensure that people want to stay in the industry.
Mabel Ochebiri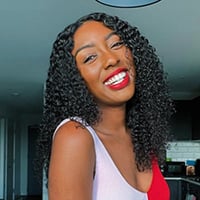 Mabel is a customer experience graduate at Sage UK. She spoke to CBF's Zarina Camal on obstacles faced in her career and why there's not enough ethnic minority BAME women in tech. 
I've noticed that usually with tech companies more women are usually in leadership roles rather than technical core teams. I was one of two women on the core team where the other woman was my manager. Having a woman as my manager was very, very encouraging. She really made me feel like part of the family even with the smallest things.
However, I did notice she was under a lot of stress. She had to work double; she had to work twice as much as her male counterparts in order to prove herself that she was good enough to be there. And also, I think eight months into my role she got pregnant and again there was a lot of pressure on her, but the thing is with their actions it felt like her being pregnant was going to put her at a disadvantage
compared to the rest of the group.
Being diverse is one thing but being inclusive is a totally different thing. They were diverse in having a technical manager as a woman but not that inclusive given that she didn't feel comfortable throughout her maternity stage. I believe that might be why women do not feel comfortable in these places.
It's deeper than just being the only woman in the room, it's also about the systems in place to support you, do you feel like you have to constantly prove yourself just because of the role you have in the company? Thankfully my current company is completely different and they do really support and are inclusive of everyone regardless of gender, race or sexual identity.
Read the full interview with Mabel
"THEY KNEW I WAS KNOWLEDGEABLE AND THEY RESPECTED ME BUT THEY DIDN'T UNDERSTAND THE UNDERLYING CHALLENGES THAT I WAS GOING THROUGH AS A MUM."
Paulette Watson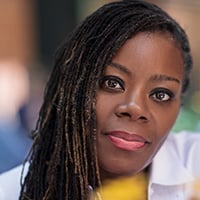 Paulette of Academy Achievers spoke to CBF's Jessie Auguste on barriers to getting into tech. 
The barriers that I faced were quite complex. In the international banking field, it was such a challenge being a single-parent mother. When you look through the lens of intersectionality it was me as a black woman, as a woman, my disability being dyslexic, and also having my child at a young age. I realised in banking there were only white men. They didn't understand that I had to leave at a particular time to get my daughter.
I was good at my job. If there was a problem, especially with a deal with foreign exchange (FX) or paying collateral money we'd have meetings and they'd always want my advice. They knew I was knowledgeable and they respected me but they didn't understand the underlying challenges that I was going through as a mum.
Sometimes I would start work late because I was trying to drop off my daughter, if she wasn't sick. I just couldn't do certain things, like go to the pub with the lads. Then because I'm a problem solver I decided to do my PGCE, my postgraduate, in computer science. I had a 15-year plan and I wanted to support my daughter.
The education system was a different ball game though. That's where I experienced microaggression, discrimination, bullying. I couldn't understand it as I was the only one qualified to teach computer science and I knew how important it was as I was the head teacher's advisor at the time.
Read the full interview with Paulette
Siba Munsanje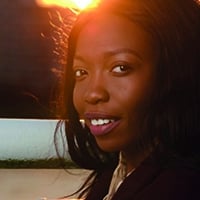 Siba is a software engineer at Deloitte, she spoke to Jessie Auguste on othering.
You have to get used to knowing that you are the only one in the room on the team, in the project, at the conference. There's that sense of novelty even for the people who are on the same project as you or attending the same event. You walk into the room and you can see the fascination, the curiosity, the relief in some people's eyes that it's good we have a woman on the team, a black girl on the team.