Digital Skills: New from BCS
Digital Skills supporting 2021's economic road ahead
Join us at our forthcoming, free to attend, virtual festival of digital skills from 30 November to 4 December 2020. We will be sharing an update on our new and exciting range of digital qualifications in a dedicated workshop taking place on Thursday 3 December;
Progression through the education portfolio: Introducing Digital Skills for Work**, ICDL Digital and Standalone Knowledge Modules.
Digital qualifications coming soon...
EDSQ: Essential Digital Skills for Work entry L3 - L1** (AEB Funding for 19+)
Six stand-alone Knowledge Modules* (ESFA funding for 16 - 19 year olds): available to educators wanting to add industry relevant qualifications to their portfolio or for employers wanting to support employees to add critical digital skills within their workforce.
L.3 Certificate in Programming
L3 Certificate in Software Development Context and Methodologies
L.3 Award in Mobile and Operating Systems
L.3 Award in Cloud Services
L.4 Diploma in Data Analysis Concepts
L.4 Certificate in Data Analysis Tools
Digital qualifications coming in 2021...
EDSQ: Essential Digital Skills

 

for Life

 

entry L3 - L1** (AEB Funding for 19+)
ICDL Digital Student modules (Smart Digital, Robotics and Computing)
Many more L.3 & L.4 Stand-alone Knowledge Modules (including Cyber Security, Digital Marketing and Network Engineer)
* Also available internationally
** Pending Ofqual approval
Festival of Digital Skills
30 November - 4 December 2020
Join us at the Virtual Festival of Digital Skills where you will hear from key influencers driving the digital skills agenda and get involved in a dedicated digital literacy skills workshop on 3 November, where you will find out more about our new portfolio of qualifications. 
Digital literacy guide
As the UK's professional body for IT, we're the experts in adult digital literacy education; download this guide to explore our current range of funded qualifications and units.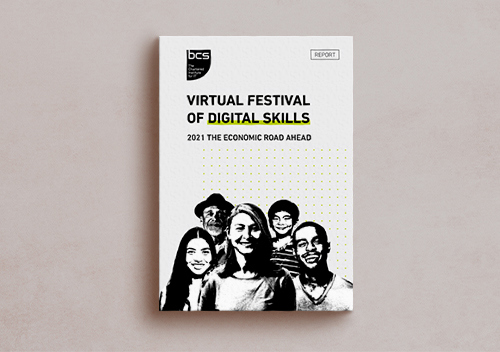 BCS State of the Nation report
Register your place at BCS Virtual Festival of Digital and you will receive an exclusive copy of the BCS State of the Nation Report.
Get in touch
A member of the education team will be in touch to discuss your individual requirements.