Cyber Crime 2019 eSport
Monday 25 November - Etihad Stadium, Manchester
Cyber Crime Cup™ live final
Join us at Etihad Stadium at 3:00pm on 25 November 2019 to watch the birth of a new genre of eSport! Sponsored by BT and hosted by Tristan Morgan, Director of BT Security.
Cyber Crime Cup™ will be awarded to the top university student hacking team. It will be the world's first ever cyber security competition to be played on stage in front of a live audience. The stadium conference room (Legends Suite) will have three raised platforms - two team stages seperated by one central commentary stage. Live commentary will be given by BCS and IBM X-Force IRIS so anyone can enjoy this eSport even with no existing knowledge of cyber security.
As a spectator you will see what happens when a live server, website and database get hacked including how to quickly detect the attack and stop it. You will also enjoy the excitement of watching the best two university hacking teams in the UK compete for this 5ft tall silver trophy sculpted in Italy and the £2,500 prize fund.
This eSport starting at 3:00pm is part of Cyber Crime 2019. You are also welcome to stay afterwards for the Conference.
Cyber Crime Cup™ live final
Bookings closed
12:30 - 15:00 Arrivals, exhibition and bar
15:00 - 15:05 BT introduce new genre of eSport!
15:05 - 15:10 Welcome teams
15:10 - 15:25 Demo of BCS eSport platform for cyber security
15:25 - 16:25 Cyber Crime Cup™ live final match
16:25 - 16:30 BT Match Analysis
16:30 - 17:30 Free buffet
When: Mon 25 Nov 2019 Where: Etihad Stadium, Manchester Price: From £20
Link to share: www.bcs.org/cybercrime2019/cyber-crime-cup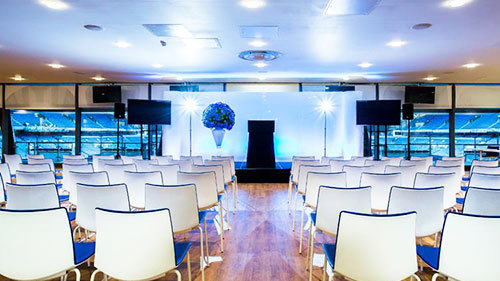 Cyber Crime Cup™ live final
See you at Etihad Stadium, Legends Suite at 3:00pm!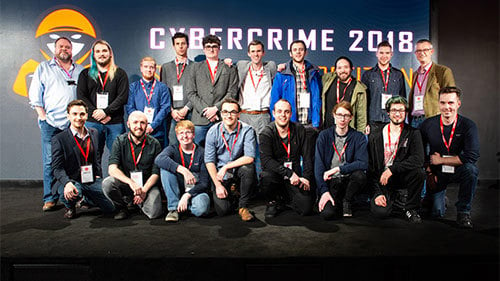 Cyber Crime student competition is renamed
2019 is the first year of eSport and the Cyber Crime Cup™
Sponsored and hosted by BT

2019 Cyber Crime Cup™ is proud to be sponsored by BT and we are delighted to have Tristan Morgan as our host; Tristan is the Director of BT Security. In particular, we are looking forward to the BT Match Analysis!


Blackphone UK to award a Blackphone PRIVY to every winning team player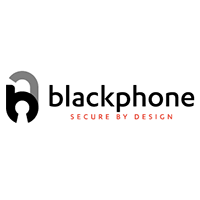 There is a huge skill shortage in the cyber security industry so Blackphone UK feel it is essential to identify, develop and reward upcoming talent. They will generously be awarding one Blackphone PRIVY to every player on the winning team at Cyber Crime Cup™ Live Final on 25 November. Each device is worth £1,800 and with up to five players on a team, this is a great incentive for students to test and develop their cyber security skills in the competition.
More about the Blackphone PRIVY here


Owayo produced eSport jerseys for live final

Thanks to Owayo for designing and manufacturing our new BCS eSport jerseys! These will be used for Cyber Crime Cup™ final. You can see the new jerseys revealed at Etihad Stadium on 25 November 2019.

About Cyber Crime Cup™
Cyber Crime Cup™ uses the new BCS eSport cyber security platform.
BCS eSport cyber security platform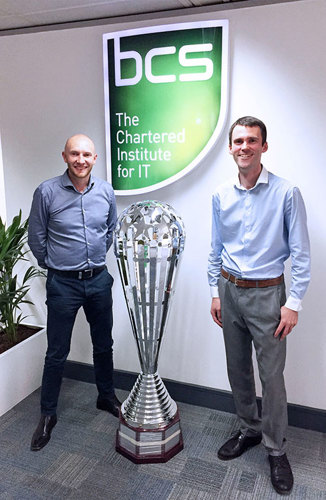 This competition system is the same as any traditional CTF (Capture The Flag) cyber security competition but the "spectator view" creates the possibility of live commentary and "incremental challenges" ensure the competition is exciting. This is a significant development in both eSport and education as it will encourage people to take an active interest in learning cyber security.
CTF (Capture The Flag)
For anyone who is not familiar with CTF, here is an example - your cyber security team is asked to hack a shopping website to acquire credit card details. In this case, the credit card details are "the flag" that must be captured to win. The first team to successfully capture the flag is the winner. Of course this is only a simulation for the purpose of competition and is known as ethical hacking. Another example could be trying to decrypt a hidden message - the decrypted message is the flag.
Spectator view
Big screens at the stadium will give a "spectator view" by displaying visual representations of hacker activity on the "competition server", made possible by detailed server logs updated in real-time. The "spectator view" is visually similar in some ways to a firewall dashboard in showing who is connected and what are they trying to access. The "spectator view" can also be accessed on your mobile device.

Live commentary
The approach of each team in trying to hack the "competition server" will be explained by the live commentary - so anyone can enjoy this eSport even with no existing knowledge of cyber security.
Excitement and education
Just like any sport, points are scored at various stages (each time a flag is captured) so every second counts! What parts of the system have each team discovered? At what point does a team stop exploring the system and start trying to penetrate it? What method are they using? Are they focused on one point of access or several? How will they try to bypass the firewall so their IP address does not get banned? It will be truly exciting to watch the live final and see who wins the Cyber Crime Cup™!
FIND OUT MORE
Exhibition @ 12:30pm | Cyber Den @ 1:30pm | eSport @ 3:00pm | Conference @ 6:00pm
Cyber Crime 2019 tickets
Enjoy the exhibition, networking, live eSport and conference.