Cyber Crime 2019 Exhibition
Monday 25 November - Etihad Stadium, Manchester
Event registration open for 2019
Cyber Crime 2019 exhibition includes BCS, Police, HMRC, UK Fast, Secarma, iStorage, One Trust, Blackphone UK, Northwest Cyber Security Cluster (NWCSC), Greater Manchester Chamber of Commerce and more! We also have a free 1-to-1 Cyber Security Clinic. Everyone is welcome. This is your chance to meet other businesses, government organisations and cyber security specialists. Discover what is new in the cyber security industry and make contact with the leading experts. Are you secure? Join us to find out!
The exhibition is part of Cyber Crime 2019. Arrive for just the exhibition anytime from 12:30pm or stay for the full conference.
Cyber Crime 2019 exhibition programme
Fully booked. Bookings are now closed.
12:30 - 18:00 Stadium open for exhibition
13:30 - 14:30 Cyber Den
15:00 - 16:30 Cyber Crime Cup™ Live eSport
16:30 - 17:30 Free buffet
18.00 - 20:00 Cyber Crime Conference
Scroll down for a full list of exhibitors
When: Mon 25 Nov 2019 Where: Etihad Stadium, Manchester Price: From £20
Link to share: www.bcs.org/cybercrime2019/exhibition

Cyber Crime 2019 exhibition
See you at Etihad Stadium anytime from 12:30pm!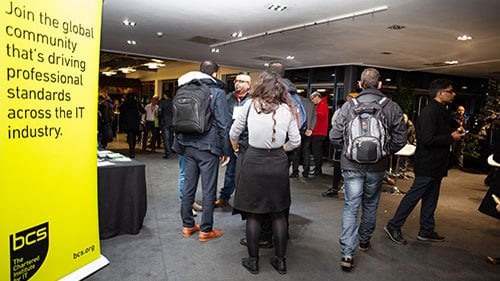 Last year sold out
400 enjoyed Cyber Crime 2018 at UK Fast.
Cyber Crime 2019 tickets
Enjoy the exhibition, networking, live eSport and conference.