Northern Ireland: Digital Technology and software systems GCSE, AS, and A Levels
The size and shape of the secondary and primary sector[11]
| | | |
| --- | --- | --- |
|   | Primary* | Secondary* |
| Schools | 791 | 193 |
| Students | 183,079 | 148,918 |
| Teachers | 8,340 | 9,429 |

*Non-independent
There are around 20,700 students in each secondary year band in Northern Ireland.
The most recent student projections (in the context of an overall growing Northern Irish population) suggest that primary numbers are set to fall towards 2030, as secondary numbers rise to a peak at around 2025.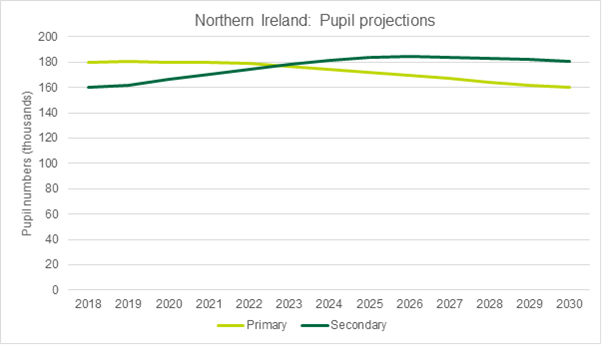 (QQ)
The current curriculum and assessment
This section attempts to capture in as summative a form as possible, the key characteristics of the main examinations currently available in Northern Ireland, including the curriculum focus, assessment methodology and coding languages preferred.
Digital technology - GCSE, Level 2 (CCEA)
Curriculum focus:
Digital Authoring Concepts - multimedia route
Digital Authoring Practice - multimedia route
Digital Development Concepts - programming route
Digital Development Practice - programme route
Digital Technology - both routes
Assessment approach:
Written exam and a controlled assessment task that is worth 60 marks - 30% of the total.
Language preferred:
Digital technology - GCE (A/AS), Level 3 (CCEA)
Curriculum focus:
Approaches to Systems Development
Fundamentals of Digital Technology
Information Systems
Application Development (Case Study)
Assessment approach:
Written examinations and portfolio development.
Language preferred:
None specified - SQL and HTML for particular cases.
Software systems development - GCSE (A/AS), Level 3 (CCEA)
Curriculum focus:
Introduction to Object Oriented Development
Event Driven Programming
Systems Approaches and Database Concepts
Implementing Solutions.
Assessment approach:
Written examinations and portfolio development.
Language preferred:
None specified - SQL and HTML for particular cases.
The teaching workforce
Data on the teaching workforce by subject specialism in secondary education is not readily available for Northern Ireland. The Statistics & Research Branch (Tertiary Education) of the Department for the Economy currently provide information about the number of entrants to teacher training / education in the past five years who had a first degree in Computer Science. This is set alongside a science and mathematics for comparison.
Subject
 
2014/15
2015/16
2016/17
2017/18
2018/19
Computer Science
Enrolments
10
10
10
15
10
Qualifications
10
10
10
15
10
Biological Sciences
Enrolments
30
25
25
25
40
Qualifications
30
25
25
25
40
Physical Sciences
Enrolments
25
15
20
20
20
Qualifications
25
15
20
20
15
Mathematical Sciences
Enrolments
25
20
20
15
20
Qualifications
25
20
15
15
20
Total
Enrolments
245
220
225
210
240
Qualifications
225
210
215
200
225

Personal communication, Department for the Economy, Northern Ireland.
This shows that the scale of teacher supply being addressed by initial teacher training education is modest with one university (Queen's University Belfast) responsible for the majority of post-primary Computer Science teacher supply[37].
The current number of teachers in post-primary settings in Northern Ireland with responsibility for Computing and or ICT, are provided by the General Teaching Council for Northern Ireland - the teacher registration authority. There are indications Northern Ireland may be (overall) training too many teachers[38] but that there is a major shortfall in people trained to work in the information technology sector in Northern Ireland.
There are currently no initiatives to incentivise people to train as a computing or ICT teacher in Northern Ireland, or supplementary training to support new entrants to teaching or to offer existing teacher additional specialisms.
Attainment and participation
The mainstay of computing education in Northern Ireland has been ICT. Uptake of A Level Computing has been growing, but ICT is the dominant qualification. There has been a drop of around 50% in ICT entries for all levels across the last five years, but growth in Digital Technology, which has largely replaced this subject.
The A/AS level in Software Systems Development (introduced in 2015/16) has seen a decline in uptake since it became part of the curriculum, with just over 200 students taking this in 2020/21.
Data for England, Northern Ireland, and Wales is drawn from JCQ annual statistical bulletins. Council for the Curriculum, Examinations & Assessment (CCEA) data is used to augment this. JCQ data on Computing includes the CCEA Software Systems Development course (A/AS level) whilst the JCQ data on ICT includes the CCEA Digital technology options.
The following charts compares the performance of female and male candidate's attainment in GCSE Computing and Digital Technology over the past five years (cumulative percentages).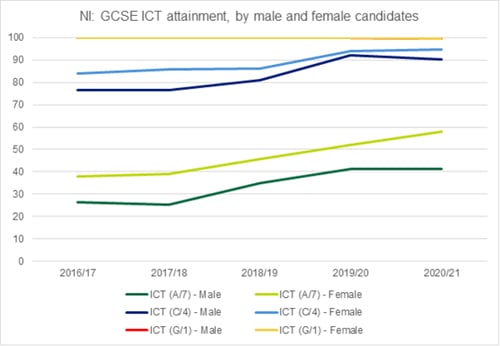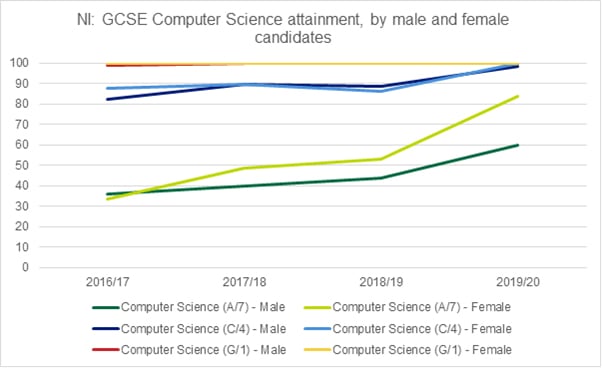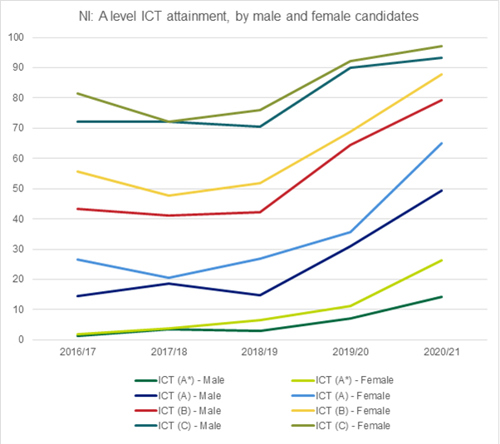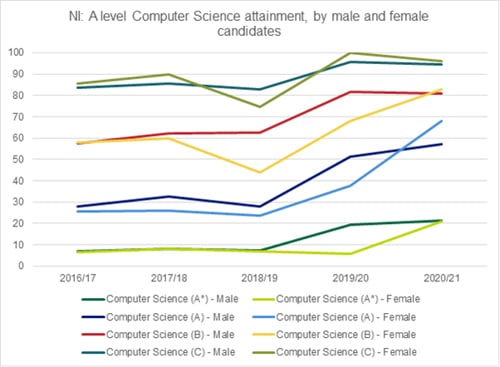 The participation rates show a ratio of 1:2 female:male students studying ICT. In Computing, this rises to 1:9 for GCSE in 2019/20 and 4:1 at A level.
The introduction of Digital Technology appears to be producing more favourable participation ratios between males and females, reflecting the uptake of ICT to a greater degree than Computing. CCEA data for the Software System Development AS and A levels show that the male to female ratio has improved for the former (moving from 5:1 to 3:1) and deteriorated for the latter (moving from 3:1 to 5:1).
Out of nine STEM subjects, Computing was the second least popular A level subject in 2018/19. Over three-times as many students opted for Physics at A level. Digital technology and ICT were behind Physics, Chemistry, Biology, and Mathematics[39].
Small numbers of students took up A levels in closely related subjects such as Software Systems Development and Moving Image Arts (all part of the Digital Skills Framework[40]). 338 students took Computing A level in NI in 2020/21 representing 3% of the cohort.
There is currently no published data illustrating uptake by young people from relatively advantaged and disadvantaged backgrounds, or by ethnicity.