Nearly ten years ago BCS asked CIOs what their CEOs were asking of them and whether they thought they could deliver on their organisational requirements. More recently we have focused on IT leaders and what they considered to be their needs for the forthcoming year in tech and business.
For 2022 we have moved in a more egalitarian direction - we have asked IT leaders and IT professionals their view of the tech, business requirements and skills needs in their organisations.
Here are some headlines for this report:
Among IT leaders and managers, the top business priority for 2022 is business transformation (26%). This is followed by operational efficiencies (15%) and business continuity planning (12%).
IT professionals (non-management) agreed that business transformation (19%) should be the main priority this year.
When it came to prioritising technologies, 27% of IT leaders and managers chose cloud as the top priority for 2022. This is followed by cybersecurity (24%) and business process automation (19%).
IT professionals (non-management) agreed that these should be the top three technologies priorities for 2022 but placed them in a different order. Cybersecurity is ranked first (25%) followed by business process automation (23%) and then cloud (16%).
Only 10% of participants feel their organisation has enough resources to achieve success in 2022.
This approach has allowed us to compare the view of IT managers/leaders with those of non-management IT professionals. In this report we will use the shorthand of 'IT leaders' to include those with management and leadership responsibility, such as CIOs, and 'IT professionals' as shorthand for those who are working in the profession but without management responsibilities.
Over the years we have had interesting answers to the question 'what keeps you up at night?' The top three are consistent between both groups: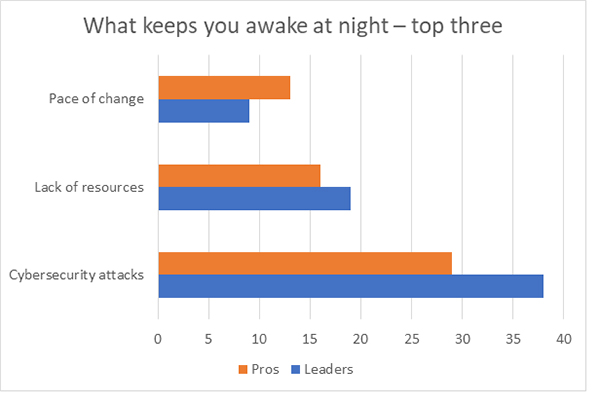 For cybersecurity the possibility of reputational damage is perhaps higher up the agenda for leaders, but it is interesting that it is those at the coalface who are more concerned with the pace of change.