Skills and the capability gap were key drivers for the answers in this section. Leadership team concerns figured highly too.
Leaders and professionals provided largely aligned answers. The overall numbers for additional resource needs: enhanced IT capability and skills in existing workforce 63%; additional suitably qualified IT staff 48%. Enhanced IT capability and understanding from the leadership team at 43% only marginally pips higher budgets at 42%.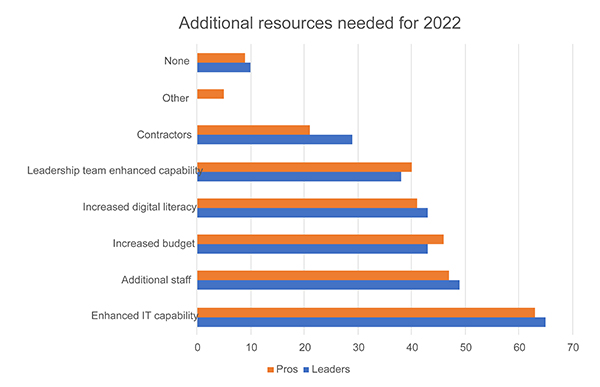 The most telling common number was those who consider they have enough resources to fulfil their organisation's 2022 needs with only 10% of leaders agreeing, and 9% of professionals.
We asked for further comments on needs and this raised some cultural issues – interestingly these were exclusively amongst comments from IT professionals'. Four key ones:
'the need for an entrepreneurial mindset in teams',
'empathic management'
'a seriously inclusive culture.'
'rather than what we can get away with, a practical implementation of care of users data.'
The capability gap
The capability gap is a complex and multi-faceted issue, so we asked for verbatim comments. This is a short selection of comments from IT professionals:
Systemic technical risk - cross cutting risk affecting many small and large projects. These need to be addressed at the organisation level coherently and not fixed multiple times in multiple ways in an incoherent way
Lack of knowledge of cloud and lack of understanding of the IT estate and how it's consumed by the business
DevOps has been ad-hoc and reactive; there must be investment in skills, planning, and repeatable practices
So-called 'leaders' are being manipulated by consultants.
A short selection of comments from IT leaders:
Effective technical communication across the business and with external stakeholders (translation from deep technical fields to communicable actions and customer insights)
The usual juggle of keeping pace with technology changes and an ever more IT savvy workforce. Honestly? Objection handling and customer service skills are the biggest gap
Low IT literacy
SEO, UX and CX.
Addressing the gaps
As a charity focused on education, BCS is always interested in how organisations plan to address capability gaps, the following chart shows answers from IT leaders (they were the only cohort we put this question to).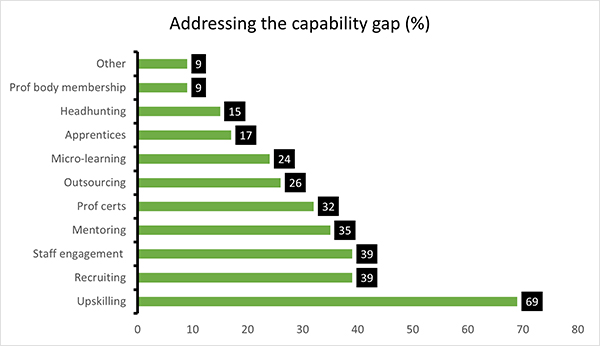 The supporting comments for the 'other' option included subcontracting, a culture change in 'championing the need for digital to address organisational development', shared learning with working groups and multi-disciplinary projects, secondments, and an increased focus on partnerships.
Here is an interesting small graph - the idea that enhanced capability is required in the leadership team has seen a steady rise in the last three years: