vITal workers - keeping us connected
We know that computing and digital services are more valuable than ever as the coronavirus crisis moves our personal and professional lives online.
At BCS, we remain committed to supporting and championing IT professionals doing vital work to protect critical services and keep us connected.
Our new campaign, vITal workers, is all about highlighting, recognising and celebrating the incredible contribution that IT professionals are making during these unprecedented times.

How the campaign works
Across our social media channels on LinkedIn, Twitter and Facebook we will be sharing and liking examples of the amazing contribution made by IT professionals using the hashtag #vITalworker
Every few days we will be tagging our best #vITalworker examples in postings from our BCS accounts and giving those professionals the opportunity to claim our exclusive vITal worker laptop sticker and pin badge.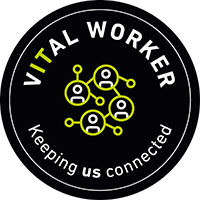 Join in
Help us celebrate the amazing IT professionals keeping us connected.
Simply @ tag them in a social media post on LinkedIn, Twitter or Facebook and include the hashtag #vITalworker in that post.
We will monitor the hashtag and feature our favourites in regular celebratory posts from the main BCS social media accounts. Those individuals will then have the chance to claim one of our stickers and badge assets.
Download a digital copy of the badge
We are saying thank you to all the vITal workers keeping us connected during this time.
Although our exclusive pin badge and laptop sticker can only be claimed by those nominated and celebrated through our campaign, everybody is free to show their support to the campaign by downloading a digital copy of the badge below and proudly displaying your vITal worker status.
Badge JPEG
Badge PNG
Twitter Cover JPEG
LinkedIn Cover JPEG
We'd love to see our vITal workers community displaying their badges on email signatures, social media profiles and posts. Show us how you're using your badge using the hashtag #vITalworker and tag our accounts on either LinkedIn, Twitter or Facebook.
A message from Paul Fletcher, CEO; BCS, The Chartered Institute for IT
Our organisation was founded in 1957 to ensure that the small but growing role of computing in our lives was positive, ethical and transformational. From WW2 codebreaking to medical research our profession has always innovated in response to society's needs.
Today, as large parts of the world's population battle the spread of coronavirus in isolation we are reliant on computing and digital services to connect us to our families and colleagues like never before...
Get involved
As part of the campaign, we'll be running weekly webinars on everything from cyber security risks to be aware of, to mental wellbeing top tips and how to protect children from social media harm.
We're looking for speakers and experts for new BCS webinars, so if you have an area of expertise or viewpoint that would add value at this time please get in touch. 
You can watch recordings of all our vITal worker webinars in the BCS content hub.

Not yet a BCS member?
We're supporting our incredible community of members - many of which are sharing their own expertise and know-how to support others at this time. It's all part of our mission to make IT good for society.
We understand this is challenging time for many IT professionals, but for that reason we also feel there is no better time to join BCS and benefit from the professional recognition we offer and access to a range of services and resources.