BCS' members made an essential contribution to our public impact and our mission to make IT good for society in 2021. Our members' voice has been heard, whether responding in numbers to polling on issues like ending racism on social media or offering individual expertise to breaking news on global outages.
We're proud to look back at some of those key events, public policy issues and stories involving the BCS community in 2021, a year when the ongoing pandemic only made the value of IT and digital industries clearer.
Next year we have more plans to leverage the expertise and commitment of our members. New specialist groups formed to address the digital divide and support LGBTQ+ professionals. Our new online membership community's coming launch will transform the way professionals contribute to our conversations with the government, industry, and the media. 
We'll also be developing our profile across our key themes of promoting professionalism, increasing diversity and inclusion, reducing digital poverty and advocating for green IT and its role in tackling the climate crisis.
Thanks to everyone in the community for contributing to our vision and work.
Dr Bill Mitchell OBE, Director of Policy, BCS
COP26 - UN Climate Change Conference
BCS was proud to be in Glasgow for COP26, the United Nations Climate Change Conference, to report on the tech stories, promote the Barefoot Climate Change Champions education resources, and support OpenUK. 
Our members' poll ahead of the event said cutting the mountain of electronic waste by reusing and recycling tech products should be a top priority. IT Professionals also told us that the government needed far better data to deal with climate change fully.
Alex Bardell, Chair of the Green IT Specialist Group, said: 'It takes combined political, social and commercial will to put the planet ahead of an ever tighter upgrade cycle.'
Stories from our poll which also looked at the potential of 'right to repair' legislation, were widely covered in the media from The Register to City A.M - and hosted on the websites of sector stakeholders like Engineering UK. 
BCS was also covered in The 'i' newspaper, arguing that the current chip shortage combined with the approach of COP26 provides an opportunity for policymakers, industry and individuals to take e-waste seriously, particularly about mobile devices.
National AI Strategy
The Government used BCS' advice and guidance on its gov.uk webpage as it launched the National AI Strategy in late September. Dr Bill Mitchell said: 'The new National AI Strategy gives the UK the best chance of developing a world-class workforce that is inclusive and diverse, with the skills and knowledge to ethically build and deploy AI digital systems that will benefit everyone.'
The strategy emphasises a ten-year plan to promote ethical principles in AI, one of BCS' key policy asks. It followed the publication of a BCS briefing, Priorities for a National AI Strategy, created in collaboration with BCS' members, including the Society Board. Our member's work informed and supported policymakers across the Government during the strategy's development, our input was most valuable.
We concluded the UK could set a gold standard for professionalism and the ethical use of technology if more support were available to help people from non-tech and diverse backgrounds to engage with and join the sector. This move could also help restore low public trust in the use of AI and algorithms, which a BCS survey found severely lacking in an earlier YouGov poll.
The Institute of Electrical and Electronics Engineers (IEEE) also interviewed Dr Mitchell for a lead think-piece: Rule Britannia: Can the UK lead the world in AI Standards? stressing key messages of ethics and professionalism. 
AI and breast cancer - consultation response
This insight is part of a far broader discussion around the value of professionalism and AI's effective and safe application. BCS responded to a consultation by the UK National Screening Committee's (UK NSC) with an optimistic but cautious view about the value of AI for breast cancer screening.
BCS supported the NCS' proposal that the use of AI for image analysis in breast cancer screening should not be endorsed in the UK at present because of a 'significant risk of overdiagnosis'. However, the potential of AI for the effective diagnosis of breast cancer in the near future is significant.
Dr Philip Scott, Chair of the BCS Health and Care Executive, was quoted in various media, including the Daily Telegraph and Digital Health.
Patient data warning
With the Health and Care Executive and Society Board, we responded with a clear BCS position on plans to collect NHS patients GP data into a centralised database, where it would be shared for research and other purposes. 
Our call to halt the rollout of the patient 'datastore' until a more comprehensive consultation and public information campaign had taken place was covered by Computer Weekly, Digital Health, Research Fortnight, and others and reached policy stakeholders. Our work will continue in this area now the government has paused this project ahead of a broader consultation.
Post Office Horizon IT scandal
BCS established a well-publicised position on the Post Office Horizon IT Scandal, working closely with O&E and Society Boards, particularly Dr Sam de Silva, Chair of the Law SG. 
We have called for reform to how computer evidence is treated in courts, following the wrongful prosecutions of sub-post managers, as reported by Computer Weekly.
Human review of AI decisions - GDPR review
We also worked with Dr De Silva to call for greater legal clarity to protect the right to human review of decisions made by AI and automation. Our work was widely featured in the media, including the Times legal section, ZDNET and other outlets.
Data: A New Direction consultation
These views form part of an upcoming consultation response on Data: A New Direction, in which the government asks stakeholders for a review on changes to current GDPR legislation; BCS stressed the need for responsible innovation and ethical, professional standards of practice across all data usage, particularly by automated systems.
Facebook outage
When WhatsApp, Facebook and Instagram suffered a prolonged outage in early October, we worked with Adam Leon Smith, Chair of the BCS Software Testing SG, to provide a rapid response commentary as the story broke. Adam's analysis was covered by national media from the Guardian to the Mail, further establishing our reputation for insight on this visible tech issue. Adam said: 'Many organisations now define their physical infrastructure as code, but most do not apply the same level of testing rigour when they change that code, as they would when changing their core business logic.'
Tackling social media abuse and online safety
Following the online racial abuse of England footballers following the Euro 2020 final, Dr Mitchell was invited to speak on Sky Sports News, BBC, LBC radio.
For you

Be part of something bigger, join BCS, The Chartered Institute for IT.
An earlier BCS members survey had found that the majority favoured ensuring that social media platforms took responsibility for removing online racism and other hate speech. Members were also clear that public anonymity should remain to protect vulnerable groups, if a form of ID verification of accounts was introduced.
The Online Safety Bill is due to be published very soon. BCS will be arguing that greater clarity is needed around the oversight and scrutiny of social media companies if the government introduces a duty of care on them to remove harmful content. 
Gaming and new laws in China
BCS Fellow Professor Andy Phippen, a digital rights expert at Bournemouth University, alongside BCS' Animation and Games Development SG, contributed to an opinion piece on the current strict limits on children's gaming time in China. We worked to promote the benefits of the gaming industry while calling for more research and guidance for parents. We had coverage across a range of news outlets, including Esports News.
BCS Women and diversity and inclusion
Several BCS members were featured in Computer Weekly's most influential women in tech list published late September. Andrea Palmer, Chair of BCS Women, ranked at number 4; Nicola Martin of the Software Testing SG featured in the top 10 Rising Stars. We are working to ensure we promote the voices and insights of these successful members and bring other influential women on the list into a closer relationship with BCS.
BCS's reputation for providing Diversity data and insight for the IT industry continues to grow and be cited across various publications. Nature magazine quoted our analysis that showed a relatively low proportion of women in tech leadership positions. Our diversity data has also been quoted in  publications by the All-Party Parliamentary Group for Diversity and Inclusion in STEM. 
We are proud of our partnership with Coding Black Females (CBF), which saw over 70 of the group become BCS members due to an innovative bursary partnership that will continue next year; CBF will take a lead role in the 2022 Diversity report.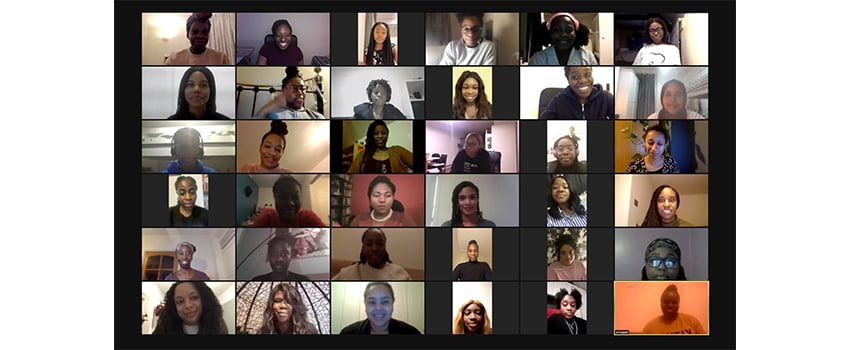 We also had good media coverage around our analysis that highlighted a lack of tech skills among the over-50s. Kathy Farndon, Chair of the Society Board, was quoted across the media, including The Independent.
UK Nations and International profile
We continued to respond to policy opportunities and challenges across the four nations and internationally. With our members in Sri Lanka we held our first webinar focusing on what it means to be a woman in IT. The webinar featured renowned women such as Sharon Moore FBCS MBE, Sandra De Zoysa, Gillian Arnold FBCS & Mihiri Dissanayake discussing the importance of diversity, what it means in an international context and how the IT industry needs gender diversity for a successful future. The event formed the international launch of the new BCS Book: 'Women in Tech: A practical guide to increasing gender diversity and inclusion'.
At ScotSoft, BCS sponsored the Scottish Young Software Engineer of the Year award. BCS Policy Manager Arnoldis Nyamande attended the software conference. In Wales, our community called for a minimum digital living standard as part of a consultation on Shaping Wales' Future and this is shaping our thinking on how to close the digital divide across the UK.  In Northern Ireland Beverly Clarke, Computing in Schools Community Manager and Adam Thilthorpe, BCS Director of Professionalism both spoke to primary school children and teachers from across NI at NI Digital Awareness Week referencing the new NI Computing Education Committee.
Internationally, our membership partnership with Jamaica Technology and Digital Alliance (JTDA) was covered in The Voice and the Jamaica Observer.
BCS Insights 2021 
BCS' Insights 2021 event brought together a range of influencers from around the sector to debate share insight and perspectives around BCS priority themes of professionalism, diversity, closing the digital divide and IT's role in achieving and understanding Net-Zero.
Guests ranged from Vint Cerf, Google Chief Web Evangelist, to local democracy campaigner Jackie Weaver, whose campaign to protect online council meetings was supported by BCS as covered here in Local Government Lawyer.
Watch the panel discussion 'A Roadmap for Good' featuring Jackie, BCS President John Higgins and Membership Director Holly Porter and read our Insights briefing report.
Webinar with the Skills Minister
The (then) Apprenticeships and Skills Minister, Gillian Keegan, was the main speaker at the 'Bridging the Digital Skills Gap webinar', along with Dr Neil Bentley-Gockmann, OBE, CEO of WorldSkills UK, and Annette Allmark, BCS' Head of Apprenticeships. The minister called on industry to back the proposed government technical training reforms for those aged 16 plus. Watch the webinar with the Skills Minister
Thought Leadership from the BCS Fellows Technical Advisory Group (F-TAG)
Our Fellows Technical Advisory Group (F-TAG) was created to provide BCS members and the wider profession with original insight on emerging technologies and techniques. Fellows from various backgrounds will explain the opportunities and challenges, what they mean for the digital industries, and the competitiveness of 'UK Plc'. 
The group's first four pieces have now been published through MyBCS (login required); BCS members have advance access ahead of general release. They cover topics such as the need to improve the IT knowledge of legislators, what the digital practitioner of the future could look like, and the sustainability challenges of digital transformation and of AI systems.
Ava and Chip - inspiring children 
We are proud that Beverly Clarke, who leads the Computing at School (CAS) local community of practice programme, published a successful children's book, The Adventures of Ava and Chip - Smart City, introducing young readers to the world of technology.
The Policy and PR team can be contacted at policyhub@bcs.uk.