30th John Perry Prize
ceg - Clinical Effectiveness Group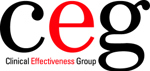 The Clinical Effectiveness Group has been awarded this year's John Perry prize at the British Computer Society's Primary Healthcare Specialist Group annual conference.
The group covers 145 GP practices in some of the most deprived areas of London and provides training to GP practices in data quality, production of clinical guidelines, collection, analysis and feedback of data, and support for implementing new programmes.
It is based at Barts and the London and Queen Mary University of London and covers practices in Newham, Tower Hamlets and Hackney. Its work since 2004 has led to considerable improvement in chronic disease management, using specially designed templates.
The group is led by three academic GPs sharing one whole time post and manager Keith Prescott, who accepted the award from Roz Foad, chair of the PHCSG, last week. Foad said the Clinical Effectiveness Group had retained meaningful engagement with local practices, primary care trusts and academia to develop a powerful tool to promote quality improvement using evidence, IT and facilitation to support, develop and effect change.
She added: "What makes them stand out is the exceptional level of trust that they have built up with the practices they serve, due in no small part to their information governance model that a lot of other organisations would do well to adopt." Foad said the organisations had been a platform for developing new research proposals and had also made a major impact locally and nationally on the recording of equity in provision of service through its promotion of self-reported ethnicity reporting.