35th John Perry Prize
Dr Rishabh Prasad on behalf of MyRightCare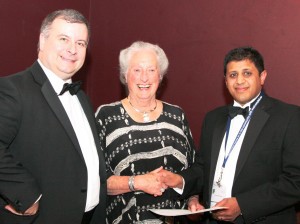 MyRightCare© is a care improvement platform. We have developed a modular, flexible system safely managed and stored via high grade record management software on the N3 system.
The system is 'agnostic' and readily interfaces with any windows based proprietary operating system. It provides health and care services with a very simple, intuitive 'one click' functionality.
We took a combinatorial approach and amalgamated three technology company's specialisations to create the end system. The system was developed with the first principal of keeping the patient / person at the centre in a Caldecott compliant and guided manner. The second principal was to where ever possible reduce the task burden on care professionals, freeing more of their time for direct care. The third principal was to provide intelligent, user facing technology to essential services to improve safety.
At the heart of our system is the My RightCare ©application. This is a deceptively simple piece of technology that has tremendous flexibility to improve care. From the clinician's or care workers perspective the 'front end' of the technology is the care plan or shared record with data analytics and reporting as a secondary or support function.
What the end user sees is a web view on the data that has been identified as essential information. The choice of how the web view is used is wide. We provide access via a portal, web link or we can interface with the employing organisations proprietary system so the view is on screen and interacting with the end user's pc.
We are a pioneer of the new GPSoC program and were the first patient facing multi system connector to go live with the new GPSoC IM1. We are going live in Lincolnshire sharing electronic access to ~3500 avoidable admission care plans in South Lincolnshire and across the whole of Lincolnshire sharing ~15,000 Electronic Palliative Care and Co-Ordination System compliant end of life care plans.
Our system is accessible both from within the N3 network via role bases access control or external to the N3 network via web links or web portal.
The system is also app-able and an icon can be added to a phone to provide the greatest flexibility of viewing use.
Who we are
We consider that who we are is less important than what we are trying to achieve. Our GPs, Dr Rishabh Prasad, Dr Phil Cox, Dr David Disney and Dr Mohammed Roshan along with our technologists Gary Nield, Stuart Trahorn, Rob Page and Josef Elliot designed and delivered the system with business executive Lindsey Wallis as team leader.